Human 2.0 Artist – Lauren Ferebee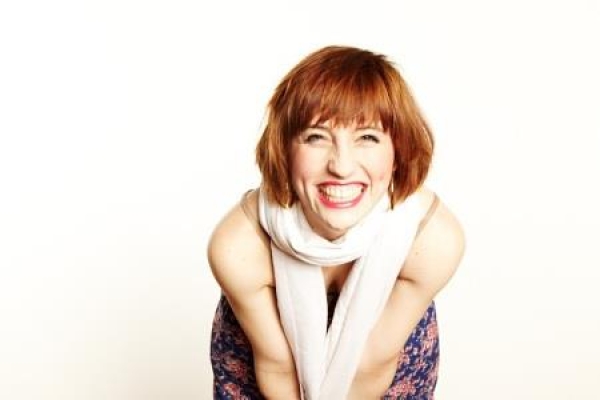 This interview series will focus on the artists of DEINDE and ForePlay Human 2.0, asking them to riff on the themes and question of the plays.
Lauren Ferebee is one of the newest additions to Flux Sunday, and has brought a focused playfulness to all the roles she's tackled that is the essence of what these Sundays should be. We were thrilled that she showed off her playwriting side, riffing on the evolution of music with her mythic, haunting play jericho, jericho, for the 4/2 ForePlay.
What crazy invention are you most looking forward to in the future?
I am holding out hope that the Time Turner will be a reality. That would make my life so much easier.
In 2051, theatre will be ________.
____mind-blowing, in a way we cannot yet conceive…
If you could evolve one of your own senses, which would it be, and why?
My hearing. I would like to have more perfect pitch.
For the human race to evolve, it will need to_____.
___get real with its own history. Among other things.
A time-travelling-you from the future suddenly appears with something important to tell present-you. What do they have to say?
"I have finally become The Doctor!"
Will the future be more like Star Trek, Star Wars, Battlestar Galactica, or the Jetsons?
In the future we will be able to travel freely through time and space, and therefore it will be like the most amazing episode of Doctor Who ever.
If you had the opportunity to think and feel directly into a computer, would you take it?
Never.
What do you have coming up in the near future that you want our readers to know about?
Ladies Night – a show supporting reproductive rights out at Willamsburg's Legion Bar! We are raising money for Planned Parenthood and raising awareness of the women's rights struggle going on.
---
Lauren Ferebee trained at NYU/Tisch where she learned to be a multidisciplinary political artist. As a writer, her second full length play Somewhere Safer, was recently developed with On The Square Productions' Square One/Write Angle series. As an actor, recent credits include The Scavengers (IRT) and Mic (FringeNYC 2011). She has worked on a variety of film/music projects, and composes her own music on ukulele, guitar, and piano, which she plays at various venues around the City.