The Evolution of Justice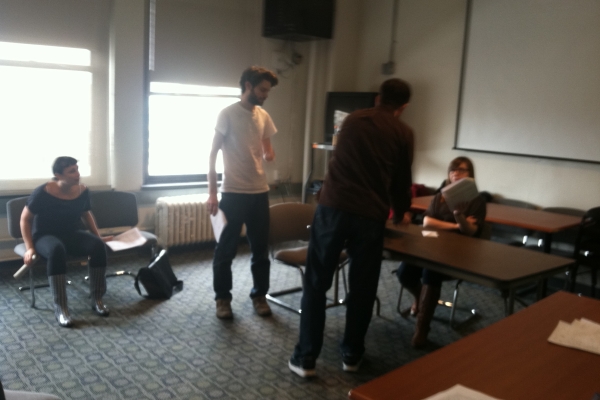 Post and pathetic iPhone photo by August Schulenburg.
First, let me remind you that tonight is the next installment of ForePlay:Human 2.0, and after rehearsals this weekend, I'm very excited to share these plays with you, so hopefully I'll see you tonight at The Lounge at Dixon Place, 161A Chrystie Street, between Rivington and Delancey, 7:30 doors open for an 8pm go.
That business done, let me share one of the joys of these staged reading series with you. When the ForePlay series is going well, unexpected themes thread through the plays, and in Human 2.0, two distinct themes seem to be emerging.
While all of the playwrights were given a human sense to evolve, many of the plays have also included some startling thoughts about possible evolutions in justice. This was certainly true of Erin Browne's Empty Justice, which imagined a future system of punishment that allowed victims to removed treasured memories from criminals' minds. Erin was given justice as a prompt, so this focus was to be expected.
Justice was also a theme, however, in Johnna Adams' Untranslatables. In this future, children who are genetically engineered to possess powerful linguistic skills are trained to remove dangerous words from all languages – words like God, betrayal, freedom, and love. These 'linguardians' are instructed to create languages that will allow tbhose in power to maintain complete control, because the words for rebellious behavior simply don't exist. Is justice an essential human instinct, or the product of our language and culture?
A similar frightening level of state control is explored in David Stallings, The Refracted Room. His prompt of Borders (spoiler alert) inspired a world where violent behavior results in the perpetrators immediately being imprisoned in an alternate dimension, never to return. Their image remains in our world, frozen at the time of their taking, as a haunting reminder of the consequences of violence. What price is a society ready to pay for complete safety?
This frightening power of justice from above reaches its zenith in Lauren Ferebee's jericho jericho, where the prompt of Music led her to imagine a future where everyone's actions are in  harmony, but a harmony enforced through the will of one man. Is justice more important than free will?
A similar tension tension between justice and free will erupts in EM Lewis' I, Human. A debate between morality and necessity rages as two robots struggle with their creator's choice to inflict a single harm for the greater good. Could artificial intelligence develop a more evolved sense of morality and justice?
Tune in tonight to find out the answers to some of these questions, true believers. It would be an injustice to miss out…