DEINDE Review: Kaila Hale-Stern, io9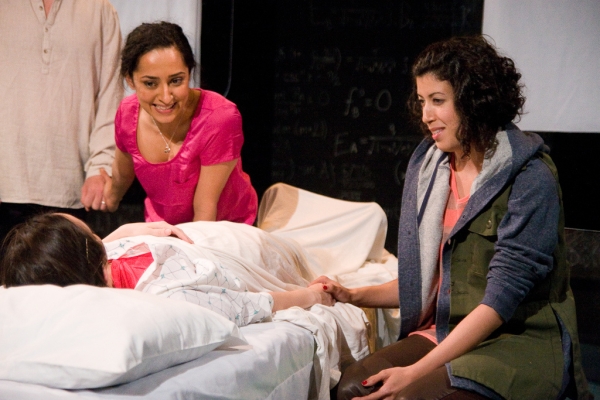 Photo by Justin Hoch at jhoch.com. Pictured: David Ian Lee, Rachael Hip-Flores, Nitya Vidyasagar, Sol Marina Crespo.
I saved the best for last.
OK, I shouldn't say best – several of these reviews are deeply meaningful to me, and I'm grateful for (almost) all of them. But Kalia Hale-Stern's io9 review was a game changer for us. As soon as it went live, tickets started selling at a brisk clip, and I'm curious to see if my hunch that this review sold as many tickets as our best NYTimes review will pan out.
It also made me realize that not everyone engages with theatre like a cultural artifact to be judged; some people care about the story, the ideas,  the world of the play:
"The fact that we want more exposition and backstory out of DEINDE is also a sign of its strength. The play clips along at a good speed, but has us invested enough in the characters to wonder at their origins and past motivations, which are more vague. We are hungry to know what shaped a future where society is so close to extinction it would risk its own sublimation in largely untested technology to save it."
It may sound funny, but this struck me as a revelation. Kalia cared enough about the world of the play to include some of the world-building we did in her review.  She goes on to discuss the ideas in the play as if they had ramifications outside of the world of the play (a rarity from many reviewers).
Did this review (and the responses of the new theatre-goers this review brought) make me want to write more sci-fi?
Oh yes, true believers. Stay tuned.