Food:Soul – IF I DID THIS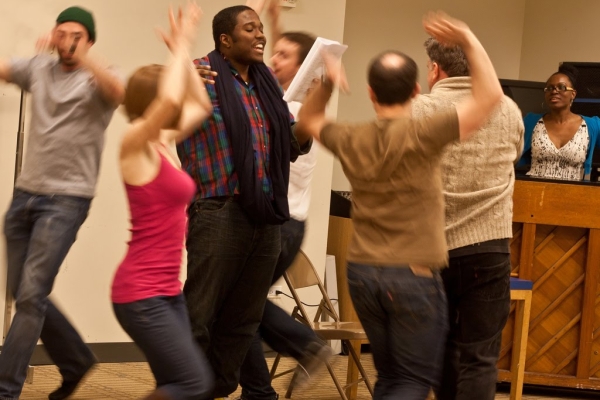 Post by August Schulenburg, Photo by Isaiah Tanenbaum, featuring the cast of the Food:Soul Spectacular Browne.
Dance and sing, for Food:Soul is back on Friday, July 27th! And we are thrilled to be returning with EM Lewis' thriller of a play, If I Did This. A grieving mystery writer is hired to ghostwrite the "story of the century" — but finds himself becoming part of the story instead.
Why should you check it out? EM Lewis' play Heads rocked my world when I read it, and I was thrilled when she began joining us at Flux Sundays. This play, with its moral ambiguity and fluid relationship to time and space, made it seem a particularly Fluxy play.
This extremely staged reading will feature Flux Creative Partner Matthew Archambault; long time Friend of Flux Jane Lincoln Taylor (Rattlers, Jacob's House); Ajax in Iraq's brilliant Ajax, Stephen Conrad Moore; newish Flux Sunday rock star Marianne Miller; and new-to-Flux John Greenleaf. This is exactly the kind of blend of new, Friend of Flux and Creative Partner that we're always trying to strike.
The reading will be staged by Pete Boisvert, who has been slinging the awesome at Flux Sundays and Have Anothers for some time now. We're thrilled to see him tackle this intricately visceral thriller of a memory memoir play.
And as always, Food:Soul features free food and even freer theatre!
Here are the deets:
Friday, July 27th
Join us for our next Food:Soul (in partnership with Judson Memorial Church)
At Judson Memorial Church, 55 Washington Square Street South
If I Did This
by EM Lewis
Directed by Pete Boisvert
Doors Open and Food is Served at 7:00pm
Staged Reading Starts at 8:00pm
Featuring: Matt Archambault, John Greenleaf, Marianne Miller, Stephen Conrad Moore and Jane Lincoln Taylor