Flux's 7th Annual Retreat At Little Pond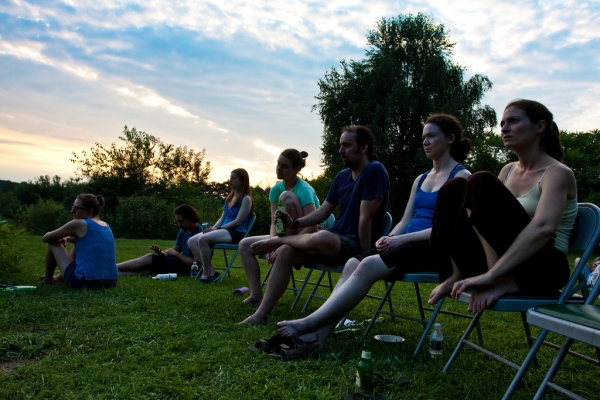 Photo by Isaiah Tanenbaum from the 6th Annual Flux Retreat. Post by August Schulenburg.
It scarcely seems possible that in a few days we'll be returning to the Little Pond Arts Retreat for our 7th annual retreat. It feels like only last year that the rain was falling during the last scene of Perse; heck, it feels like only last week that we gathered there for the first time to ask what a Flux Theatre Ensemble might be and do. So the time goes, in little drips and sudden flows…
Besides our usual organizational planning, we'll also work on plays from the following playwrights:
Johnna Adams (Skinless, Hued Moll)
Kristen Palmer (Then and Now, Once Upon a Forest)
Brian Pracht (A new screenplay?)
August Schulenburg (Jane the Plain, Encryption, The Fields of Blue and Glow, Tidal Devices)
Adam Szymkowicz (Mercy, A Thing of Beauty, Where You Can't Follow)
In addition to those goodly scribes, we'll have the following creative partners and Friends of Flux in attendance: Kelly O'Donnell, Heather Cohn, Tiffany Clementi, Will Lowry, Isaiah Tanenbaum, Matthew Archambault, Alisha Spielmann, Becky Byers, Carissa Cordes, Chinaza Uche, Jane Taylor, Kari Swenson Riely, Ken Glickfeld, Rachael Hip-Flores, Sol Crespo, Zack Robidas, Anna Lamadrid, Chris Wight, Jason Paradine, Jodi Witherell, Ryan Andes, Marnie Schulenburg, Kia Rogers and (hopefully!) Lori Parquet.
Oh, I can't wait, but really, I hardly need to, because it's very nearly almost here. For those who will be wondering what's cooking on the fair hills and deep barns of Little Pond, stay tuned for our "Retreat Harvest" Have Another, where we'll share some of our favorite scenes from the week, at Jimmy's #43 on Thursday, September 13, 7:30pm!