Hearts Like Fists Cast Announced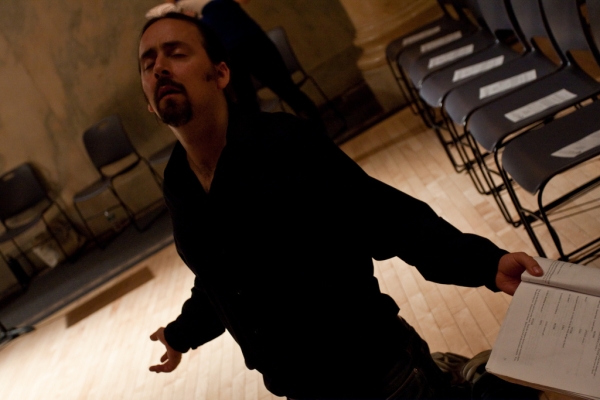 (Photo: Isaiah Tanenbaum. Pictured: August Schulenburg from the Food:Soul of Hearts Like Fists. Post by August Schulenburg)
Yes, I am indeed reprising my role as Dr. X from our Food:Soul of Hearts Like Fists (absurd acting moment captured above) in our upcoming production of the same play, running at the Secret Theatre from November 30 through December 15. I'd be lying if I said I wasn't excited about that fact.
But, my heart really starts a-quivering once I take a look at the rest of my cast mates, who are individually awesome but taken together, combine into a theatre Voltron. It was also one of the most difficult casting processes we've ever had, and we all felt we could have cast this show three different ways. Flux strives to balance our mission of building a creative home with our core value of excellence, and there is once again a wonderful mix of Creative Partners, Friends of Flux, much-missed performers and fresh new faces.
Peter – Chinaza Uche: We should have seen it coming: after all, Chinaza was a joy to work with in Ajax in Iraq and a rock star at our last Retreat. Still, we were not prepared for the humor and depth of feeling that he brought to his read of Peter, the driven, heartbroken, heartthrob doctor at the center of Hearts Like Fists.
Lisa – Marnie Schulenburg: She's back! After Joann in Angel Eaters and Allegra in Adam's other Flux play, Pretty Theft; Marnie's return to the Flux stage has been long overdue. We're thrilled to have her join the HLF cast as Lisa, the newest addition to the Crimefighters. And I may be looking especially forward to throwing down against my sister in some of these crazy fight scenes…
Nurse – Susan Louise O'Connor: While we had the pleasure of working with Susan on the Imagination Compact, mostly we've watched her tear up stages from Indie to Broadway and waited for our chance to work with her in a full production. She perfectly captures the ridiculous charm of the Nurse, one of Adam's most delightfully unique comic creations in the play.
Sally – Aja Houston: As both a playwright and actor, Aja has been a highlight of our past two ForePlay Series, New World Iliads and Human 2.0. We're super-excited to bring her into a full production as Sally, the hard-nosed leader of the Crimefighters. We've also had the pleasure of workshopping Aja's own superhero(ine) play at Flux Sundays, so this casting is particularly sweet.
Nina – Becky Byers: Well, you all know what happened the last time Becky Byers and Kelly O'Donnell joined forces on Flux turf. The unforgettable incarnation of Jo-Jo, The Bald Faced Liar, coursed through our production of Dog Act like a live wire. We're thrilled to have Becky in the roll of the Crimefighter who may or may not harbor a particularly dangerous attraction…I can't say more, you'll just need to see it.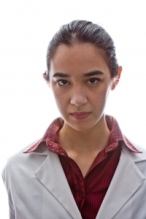 Jazmin – Rachael Hip-Flores: I know what you're thinking – isn't this cast already absurdly laden with talent? And yet, here comes Rachael returning from her brilliant performance as Jenni in DEINDE. Of all our auditioners, I thought Rachael nailed the style of the play better than anyone, making pretty much every other word out of her mouth spot-on hilarious. I'm especially exciting to see her fighting prowess – explored only a little in DEINDE – go full out as the heartstopping crimefighter Jazmin.
And then, oh yeah, there's me as Dr. X. I'm very excited to be acting in a Flux show again, my first since playing Ezekiel in 8 Little Antichrists back in 2008. I'd include another picture of me, but really, isn't that silly image above enough?
All of us in Flux send a huge thank you to the extraordinary actors who came out to audition. It isn't exaggeration to repeat that this really was the hardest process we've had to cast, choosing from so many perfectly awesome options. I truly can't wait to begin this rehearsal process, and be in the room with such gifted, lovely people.
Mark your calendars, friends, this is one you really won't want to miss.