Flux Sunday, 10/14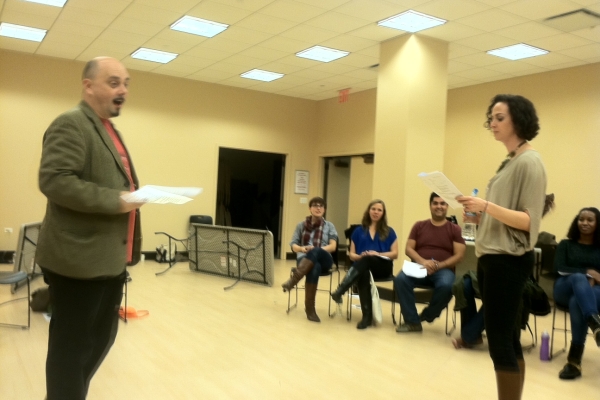 Post and pathetic iPhone photos by August Schulenburg.
From a 90s call center to a mythic Africa, from academic skirmishes to political battles, from earth to moon and back again, this Flux Sunday covered a lot of ground in a few short hours.
Playwrights: Aja Houston (Acirfa Unchained), Lauren Ferebee (Carolyn and Bruce), Kristen Palmer (Mysteries of the Unknown), August Schulenburg (Earth Rise), Roland Tec (Kennedy V)
Directors: Heather Cohn, Marielle Duke, Murdock Lucas
Actors: Shaun B. Wilson, Isaiah Tanenbaum, Jennifer Somers Kipley, Aja Houston, Kate Dearing, David Levin, Ken Glickfeld, Katie Hartke, Alisha Spielmann, Gabby Sherba, Heather Lee Rogers, Marcos Najera, Nandita Shenoy, Ridley Parson, Jennifer Bareilles
Highlights:
-The return of Katie Hartke! The return of Katie Hartke! 'Nuff said.
-Nandita capturing the zany, unfulfilled energy of Suzie in Kristen's Mysteries of the Unknown
-Kate knocking the ambitiously naive Valerie out of the park in Lauren's Carolyn and Bruce
-Getting to act with the amazing Shaun B. Wilson! Such a generous scene partner in an intense scene.
-Marielle's bold staging of Kennedy V in the round, which paid off big time during Teddy's speech to the Senate, and LBJ's televised address standing on the piano bench – there seems to be a trend of stretching what the space can do, and it's exciting to see directors exploring as much as the playwrights.
-The unmitigated delight of Alisha's manipulations as Rose Kennedy – what's age got to do with it?
-Heather, Gabby and Isaiah nailing the switch in tone from political thriller to intimate tragedy in Earth Rise – I'm beginning to find the voice of this story.
If you were there, what memories sit in the round of the mind?