Flux Sunday, 9/23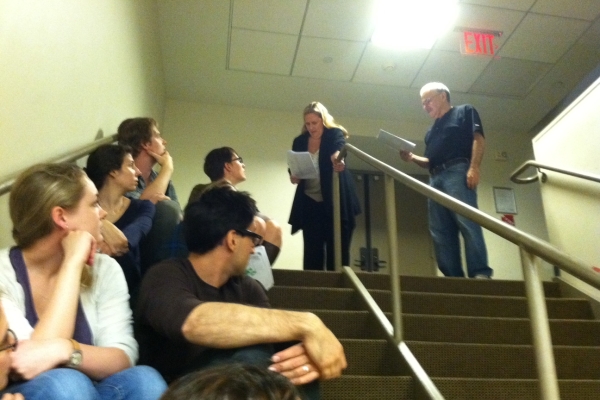 Post and pathetic iPhone photo by August Schulenburg
It's not every that dinosaurs, imaginary monsters and talking doors all show up in the same room…unless, of course, that day is Flux Sunday.
Playwrights: Rob Ackerman (Snickers and Snarg), Johnna Adams (Cause), Lauren Ferebee (Somewhere Safer), Laura Jo Schuster (Danny the Dinosaur), August Schulenburg (Down)
Directors: Marielle Duke, Zachary Tomlinson
Actors: Leila Okafur, Heather Lee Rogers, Kate Dearing, David Del Grosso, Ryan Shams, Sarah Amandes, Marianne Miller, Alisha Spielmann, Will Lowry, Jane Taylor, Isaiah Tanenbaum, Ken Glickfeld, Emily Hartford
Highlights:
– The 'Snarg' – Rob's imaginary (?) adversary in the play your young audiences, Snickers and Snarg, is played by multiple actors acting as one, and everytime we cold read this puppy, the Snarg-prov is hilarious. This day was no exception.
-Will Lowry played a dinosaur. What else do you need to know?
-Marielle continued her string of smart direction, giving Johnna's Cause a propulsion and emotional weight with the help of strong performances from Sarah Amandes and Leila Okafur.
-Alisha's enigmatic emissary in my reworked Down, sliding smoothly down the railing in a bad-ass exit…and pretty much everything Jane did and said.
-Ryan Shams continued to rock out Lauren Ferebee's Somewhere Safer  as our go-to Nathaniel, playing the aggressive campaign manager with a studied ease
If you were there, what fossils of memory will survive the flood?
And here are some pictures courtesy of Isaiah Tanenbaum of Will playing a dinosaur. I assume I don't have to explain why.