Flux Sunday, 9/30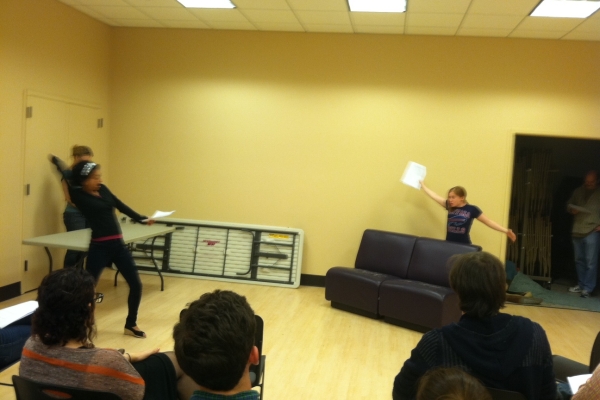 Post and pathetic iPhone photos by August Schulenburg.
One of the great challenges and joys of Flux Sundays is trying to direct a subtle scene about desire and political machinations whilst an imaginary laser battle on a space ship is being rehearsed ten feet away!
Playwrights: Johnna Adams, Nat Cassidy, Lauren Ferebee, Kristen Palmer
Directors: Heather Cohn, Marielle Duke, August Schulenburg
Actors: Will Lowry, Melissa Herion, Alyssa Simon, Ryan Shams, Isaiah Tanenbaum, Alisha Spielmann, Becky Byers, Kellie McCants, Max Freedman, Ridley Parson, Anthony Wills Jr, Nandita Shenoy, Heather Lee Rogers, David Levin, Sarah Amandes
Highlights:
-Heather Lee Rogers found a lovely edge to the photographer Annabella in Lauren's Somewhere Safer, provoking her with aggressive questions to land a more interesting picture. I also enjoyed building on the staging choice Anthony made in having the action surround the audience.
-Lauren staged a masterful last gun battle between Becky Byers and Nandita Shenoy – pure goofy joy.
-Ridley and Anthony split the role of customer service jockey Charlie in Krsisten's new play, each finding a uniquely bored but playful angle.
-Heather, Alyssa and Isaiah made their scene from Johnna's Trained seem ready for production, ably creating an entire train car bound for New Haven…or somewhere more sinister.
If you were on that train, what sights out the window stuck with you?
And, as is our way, a few more crappy iPhone photos for your nostalgic pleasure: