Hearts Like Fists Review: Cultural Capitol, Will Kenton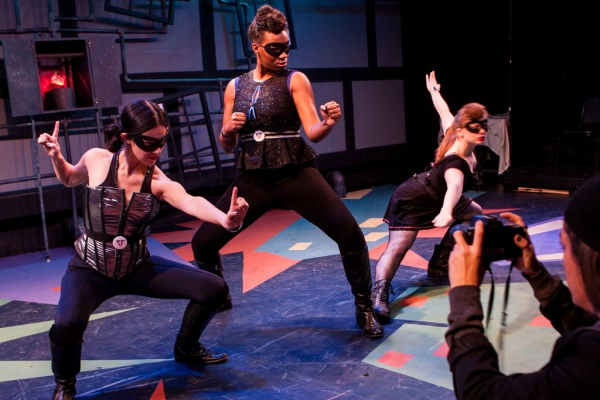 (Photo by Isaiah Tanenbaum. Pictured: Rachael Hip-Flores, Aja Houston, Becky Byers. Post by August Schulenburg)
Will Kenton's reviews are always notable for their depth, but his review of Hearts Like Fists for Cultural Capitol is especially notable for its verbal playfulness, capturing the style of the play itself. Note:
"Turns out she's the Queen of Hearts, and her superpower is breaking, shivering, and shaking that manly muscle to mealy mush."
That style opens up into some truly insightful passages, like:
The result is a gently absurdist send up of the romantic calculus that informs most of the present day mythology of love and dating.
Good stuff here, readers. From a producer standpoint, however, the pearly sheen of this pull-quote must make it my favorite:
"…but Flux Theater Ensemble, including director Kelly O'Donnell, the design team featuring Will Lowry (scenes), Janie Bullard (sounds), Stephanie Levin (costumes), Kia Rogers (lights), and Adam Swiderski (fights) have produced such a tight, well envisioned and executed performance that you may forget you're in Long Island City and not on Broadway."
Something too much of this–I'll be quoting the whole review if I keep going. So read it and then join us for our closing week!