Hearts Like Fists Review: Ed Malin, nytheatre.com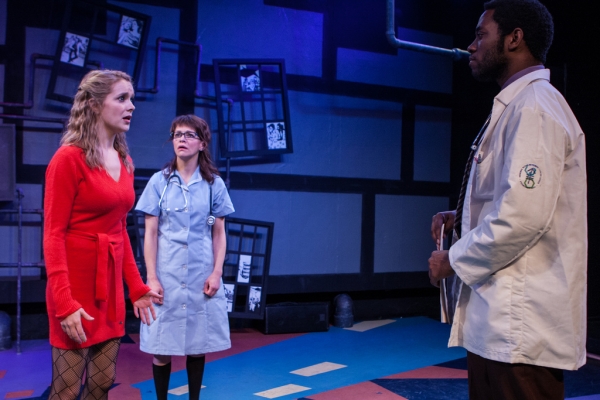 (Photo: Isaiah Tanenbaum. Pictured: Marnie Schulenburg, Susan Louise O'Connor and Chinaza Uche).
It's no surprise that nytheatre.com–stalwart of the Indie scene–is our second review. It was, however, a very happy surprise to find out our reviewer was playwright Ed Malin. I first learned of Ed through this extraordinary profile in the Indie Theatre Companion by Mac Rogers. The punning on evidence in the profile happily appears within the first sentence–heck, the fifth word–of his review.
There's much to love, but one sticks out:
Kia Rogers's lighting and Janie Bullard's sound punctuate such moments more effectively than some of the things you'd see in The Matrix.
To that pleasing shout-out, I'd like to add the nimble fingers of our DJ, Chris Wight, and the prehensile tail of our stage manager, Jodi Witherell. These two perfectly punctuate every punch and kick in Kia and Janie's awesome designs, hanging on our every headbutt, and so I sing their praise. (Praise!)
To see and hear what we mean, come see the show–there are still $12 tickets for tonight with code BEAT12.