Hearts Like Fists Review: Mark Lord, Queens Chronicle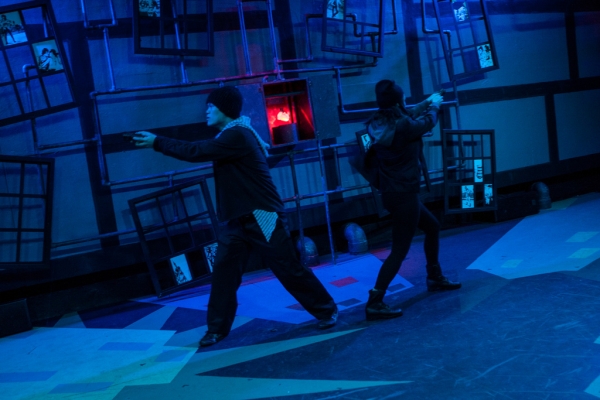 (Photo: Isaiah Tanenbaum. Pictured: Chester Poon, Jennifer Somers Kipley. Post: August Schulenburg)
I think this review, by Mark Lord of the hometown team Queens Chronicle, wins for the best title: "Oh, the dangers of love…and doughnuts". Citing our Core Value of Joy listed in the program, he thankfully finds the experience, well, joyful. (Also, I've been impressed by the number of times reviewers have made mention of the content within our program, for better or worse–clearly, there is some value there.)
This is a praise-filled review, but my favorite quote was about the play itself:
"the play…is, in all probability, unlike anything most theatergoers have ever seen. Running some 90 intermissionless minutes, it flies by, scarcely leaving time for the actors or the audience to catch their breath. The innovative play, which questions the purposes and passions each individual has in life, has come up with situations and lines that are at once ludicrous and hilarious."
I can attest to the out of breath part, though it gets a little bit easier every night. I think it's safe to say that many of us in the cast are in the best shape of our lives after this play!