8th Annual Flux Retreat at Little Pond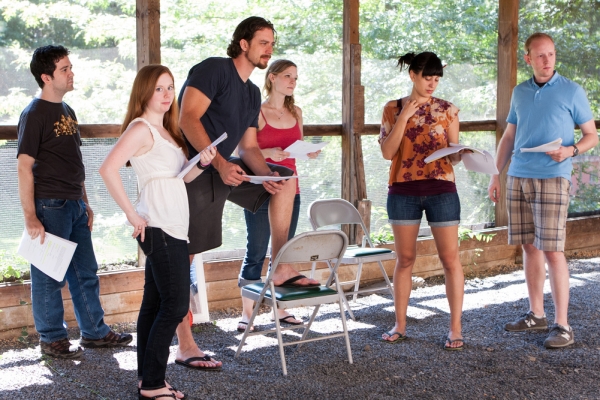 Photo by Ken Glickfeld. Pictured: The cast of JANE THE PLAIN at the 2012 Retreat.
It's here! It's time! Retreat! Retreat!
This Sunday, we'll be returning to the Little Pond Arts Retreat for our 8th annual retreat. In addition our usual organizational planning, we'll also work on plays from the following playwrights in attendance:
Johnna Adams (Lingua Ignota)
Aja Houston (Acirfa)
August Schulenburg (Salvage, Stepping)
Time permitting, we may also play with some scripts from playwrights who are not able to attend: Nat Cassidy, Kristen Palmer and Adam Szymkowicz. We'll also be doing a heck-ton of BARPing.
We'll have the following creative partners and Friends of Flux in attendance: Kelly O'Donnell, Heather Cohn, Will Lowry, Isaiah Tanenbaum, Kia Rogers, August Schulenburg, Aja Houston, Alisha Spielmann, Anna Lamadrid, Anna Rahn, Becky Byers, Carissa Cordes, Chester Poon, Chinaza Uche, Chris Wight, Emily Hartford, Jane Taylor, Jennifer Somers Kipley,  Jodi Witherell, Johnna Adams, Julian Stetkevych, Ken Glickfeld, Lori Parquet, Marianne Miller, Marnie Schulenburg, Mike Mihm, Rachael Hip-Flores, Sol Crespo, Shaun Fauntleroy and Zack Robidas.
What an amazing group–I can't wait! I hope to share as much of the Retreat as is possible and appropriate here on FluxBlog…and perhaps resurrect FluxBlog back to its old busy ways.