Flux Sunday, 10/20/13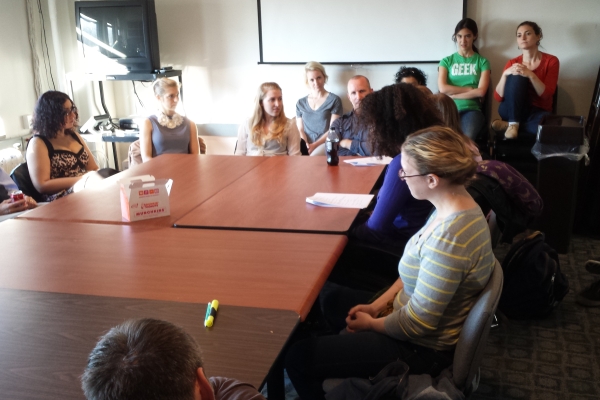 (Post by August Schulenburg. Photo by Ken Glickfeld, )
And so it goes: when we have enough consecutive Sundays in a row, whole plays spring into being and are heard and staged from start to finish. We finished Lightning Walks, and seem to be nearing the end of Superwomen and Beauty Queens=World Peace?, and then started several new worlds in the tight but friendly confines of TCG…
Playwrights: Katherine Burger (Down the Rushy Glen), Shaun Fauntleroy (Shadow Walkers), Susan Ferrara (Silver Kitchen Plays), Aja Houston (Superwomen and Beauty Queens=World Peace), Nandita Shenoy (Rescued by a Coquette), August Schulenburg (Lightning Walks)
Actors: Jason Howard, Adam Swiderski, Katie Lawson, Jane Taylor, Emily Hartford, Zack Calhoon, Isaiah Tanenbaum, Heather Lee Rogers, Ken Glickfeld, Heather Cohn, Marielle Duke, Alisha Spielmann, Rachael Hip-Flores, Marianne Miller, Laura Jo Schuster, Christine Zagrobelny, Becky Byers, Anna Rahn, Pete Boisvert, John Greenleaf, Anne Dufault, Anthony Wills Jr., Adriana Jones, Sarah Amandes
Highlights Included:
– While we only began to fill the layered silences of Susan's new piece, I'm hopeful she'll bring it back when we're staging so we can really dive into the outwardly still, inwardly churning energy of Jeanne and Frank
-Aja does many things well, but I've come to particularly love the nuanced vulnerability and fight she brings to Rambo is Shaun's Shadow Walkers.
-Adam Swiderski again dropped into the Sally part of a Jack with an understated ease that made the big monologue sing in Lightning Walks
-Anthony Wills Jr.'s hilariously love-struck Richard captured the zany, noired-up, yet still happily human style of Nandita Rescued by a Coquette. We were just beginning to capture the style of this exciting piece.
-Sarah Amandes rocked the ever-loving linsey-woolsey out of Dorcas, the joyfully matron-ized Brit in Katherine's new layered tale of the wyrd, Down the Rushy Glen
-But the top highlight of the day most surely go to Susan Ferrera's no-holds barred reading of Mrs. Jones, the powerful and elegant matriarch of the Superwomen clan. Now that's how you drop a mic on Flux Sunday.