Have Another #10 – The Retreat Harvest Pictures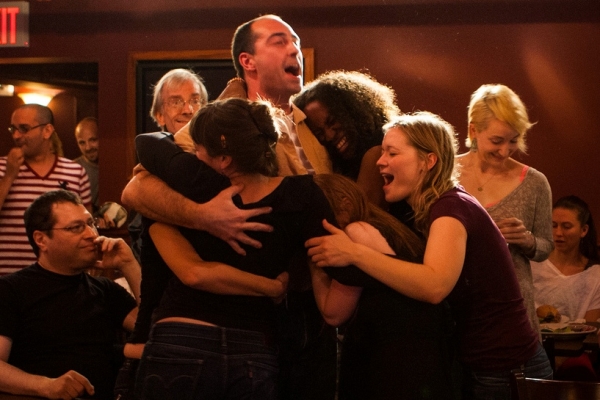 (Post by Rachael Hip-Flores. Photo Credit: Heather Cohn, Isaiah Tanenbaum.
Pictured: Mike Mihm, Emily Hartford, Alisha Spielmann, Aja Houston, and Anna Rahn.)
We're so excited to share these Have Another pics with you!!! This magic moment above is from  the culminating night of the Big Artistic Risk Project, the opening piece in Have Another #10 – The Retreat Harvest.
And a big family hug gives way to the memory young love for the next piece of the evening, Adam Szymkowicz's Sarah
The dinosaurs didn't have love…
…which proved to be their undoing – or so the parable from Sarah tells us.
Becky Buyers as rookie agent Lydie and Alisha Spielmann as the hardboiled Feehan are on the beat in Gus Schulenburg's noir thriller Encryption.
Is this the face of an evil mastermind?
Carissa Cordes, as the BARP's suicidal Mother character, follows the Grandmother, played by Kelly O'Donnell, into the afterlife.
Things also get dark for Sarah's mom, Ellen.
But things do turn out all right for the good guys in Encryption…or do they…
The night ended with two exciting announcements. First, the new creative partners were named: Chinaza Uche, Rachael Hip-Flores, Alisha Spielmann, Becky Byers, and Sol Crespo (previously, they all had completely different names) And their first official duty was to announce the next full production, Gus Schulenburg's Jane the Plain.
And, really, it's never a party until Sol shows up, so here – Have Another creative partner!