Flux Sunday 10/27/13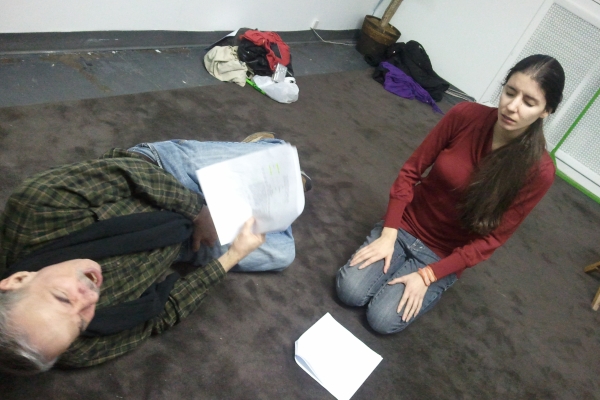 (Photos and post by Rachael Hip-Flores. Pictured: Ken Glickfeld, Adriana Jones)
We came, we saw, we organized the living shit out of that space, and now we had our inaugural use of the new rehearsal space at Bad Sandy Productions!
And what an incredible Flux Sunday it was! In the space of three hours,  we saw the ancient queer deities of Jason Tseng's play, the dog summoning magic of Katherine Burger's Down the Rushy Brook, the vulnerability of disturbed creators in Johnna Adams' World Builders, and, of course, a Viking Chorus in C.L. Weatherstone's Attack of the Killer Tomatoes.
Actors: Adriana Jones, Isaiah Tanenbaum, Ken, Heather, Alisha Spielmann, Sarah Amandes, Katie Lawson, Jen Kipley, John Greenfield, Anna Rahn and Rachael Hip-Flores.
Playwrights: Johnna Adams, Katherine Burger, Jason Tseng, C.L. Weatherstone
Directors: Christine Zagrobelny, Heather Cohn
Highlights include:
-Ken and Adriana brought raw energy, power, and innocence to the children of Down The Rushy Glen.
Peace, yo – it's been metaphysical!