Flux Sunday, 1/5/14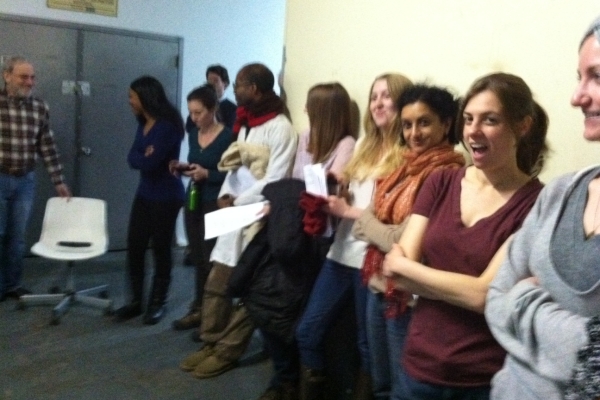 (Post and photos by August Schulenburg. Pictured: a bunch of actors super psyched to see some Becky Byers writing.)
2014 got off to a great start as we returned to The SandBox for our first Flux Sunday of the year! We staged the final scene of Aja's Superwomen + Beauty Queens=World Peace?, and it was sweet (and a little sad) to being 2014 with a play we loved so much in 2013.
But it was also a Flux Sunday of new beginnings, as we saw the first pages ever brought by Becky Byers, and they were unsurprisingly awesome. Good omens to begin 2014!
Playwrights: Becky Byers (Roommates), Aja Houston (Superwomen + Beauty Queens=World Peace?), August Schulenburg (Be Happy Be Happy Be Happy), Jason Tseng (Apotheosis), Anthony Wills Jr (11 1/2 Pieces on Death, Dying, Life and Living (A Comedy))
Directors: Heather Cohn, Christine Zagrobelny, Becky & Gus
Actors: Nandita Shenoy, Heather Lee Rogers, Ken Glickfeld, Alexis Thomason, Alisha Spielmann, C.L. Weatherstone, Nicole Aiken, Patrick Meilville, Anne Dufault, Isaiah Tanenbaum, Rachael Hip-Flores, Anna Rahn
Highlights:
-Besides the fact that Becky's pages rocked, it was amazing to see how much Rachael rocked within them; this is what a Creative Partnership is supposed to be all about! Heart=toasty.
-OMG I wish I could say which of the competitors won the Ms B Beauty Pageant but that would be a mega-spoiler! Suffice to say there was a much longer wave of applause than usual after the last scene of Aja's Superwomen…, a sign of how we've all journeyed together with this play over the months, and what a satisfying end it was. Also, Alexis victorious! Also, paper tiaras. Also, #elevatedAnnaRahnsinging.
-Anne Dufault totally stepped up (quite literally) with a knock-out performance in Jason's Apotheosis. Love the Manic Pixie Dreamgirl…and fear her.
-Anthony's 11 1/2 Pieces… was straight up beautiful: Some Isaiah clown-town, a moving monologue delivered by Patrick, and Anthony singing us home. Powerful.
And now, for some bonus crappy iPhone pics to honor the new year!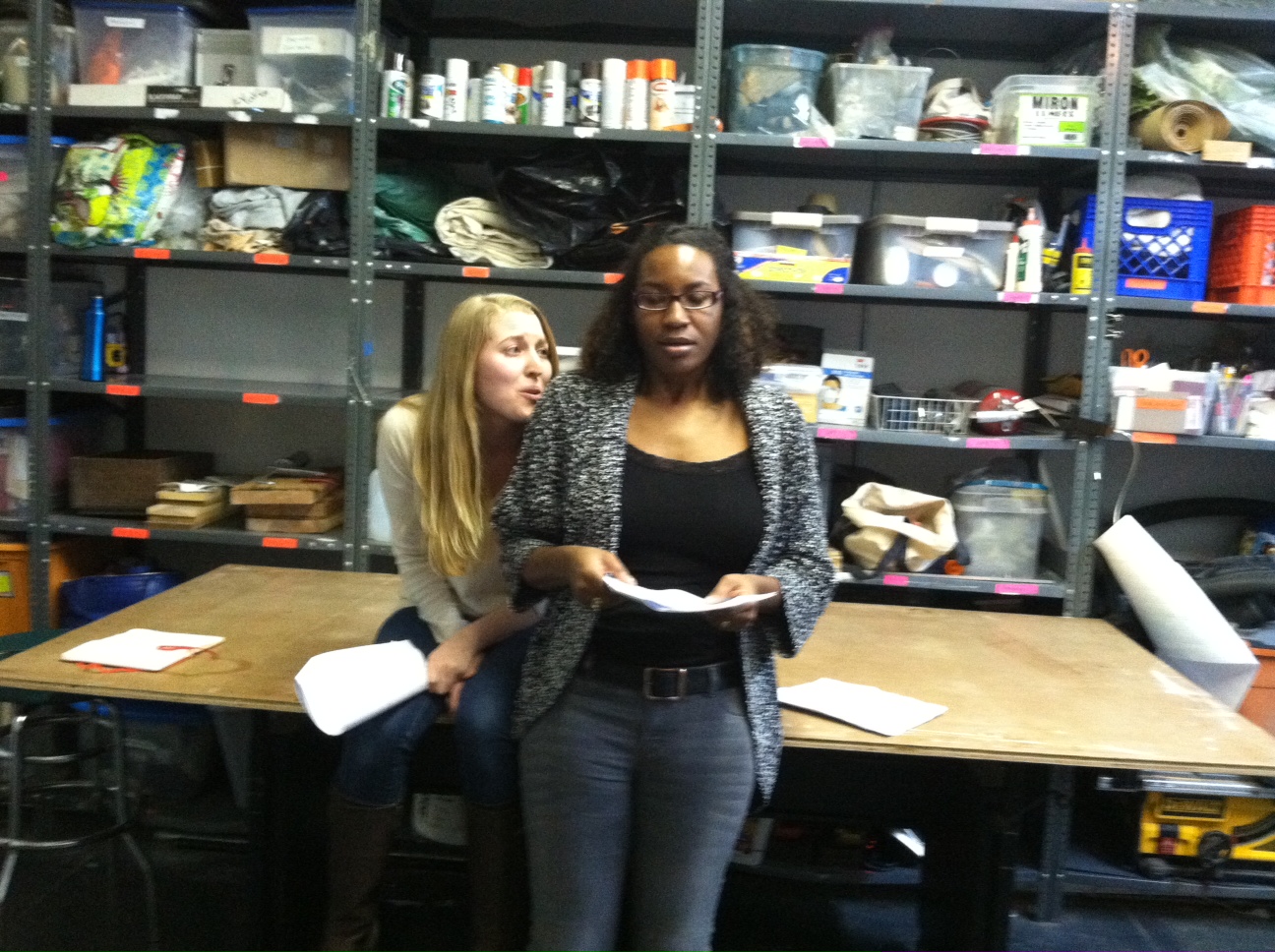 Manic Pixie Dream Girl enjoys her new mortal toy.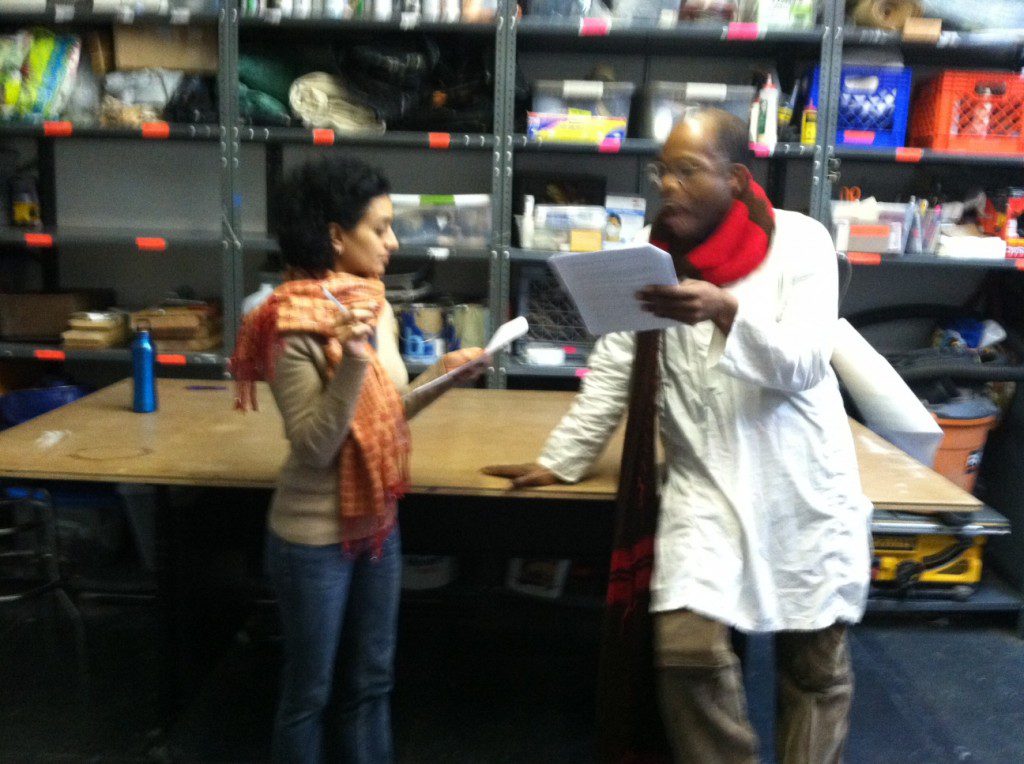 The Gods Eve and Lilly try to persuade each other…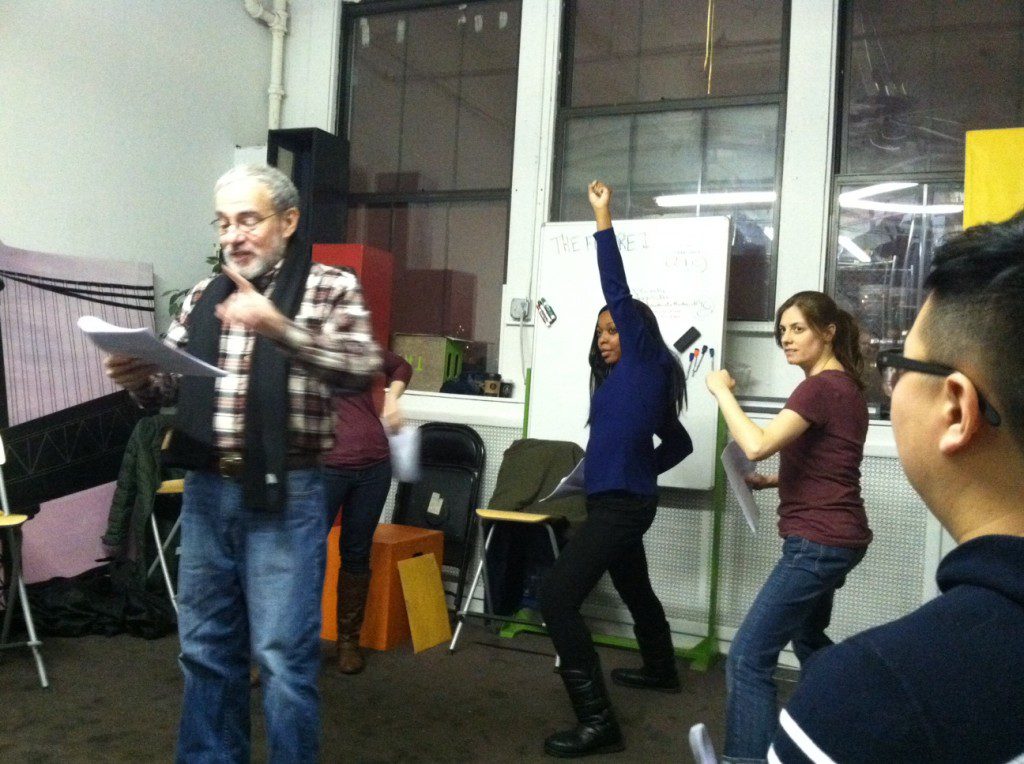 Get your Essence Animals ready to rumble!
If you were there, what will you remember from our first Flux Sunday of 2014?