Once Upon A Bride… First Rehearsals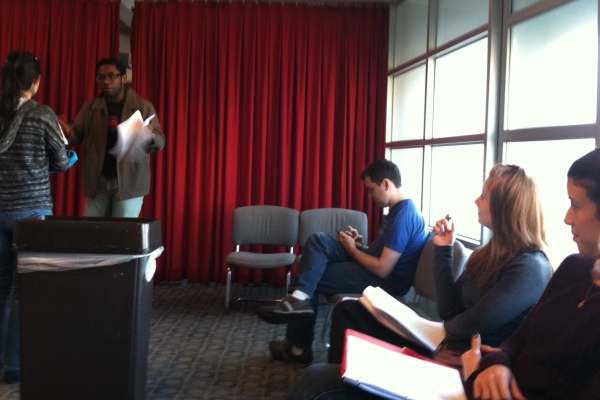 (Post and photo by August Schulenburg. Pictured: Rachael Hip-Flores, Chinaza Uche, Isaiah Tanenbaum, Becky Byers, Sol Crespo.)
Well, first off, I suppose I should come clean right off the bat: I love Once Upon A Bride There Was A Forest. I'm a fan of all of Kristen Palmer's work (and of Kristen), but I'll admit, I have a special shine for this play.
For one thing, it feels like many of her particular gifts: a lyric poetry; a playful humor; and above all, these transformative waves of gravity that ripple out from the raw heart of her plays, a gravity emanating from an unshirking account of loss and how it changes us, waves that warp us watchers into new shapes; all of these cohere into a haunting dream-world mirror of our own.
Yes, I do very much like this play.
And I like our Creative Partners in this play. Though a full production may not be best served by this exact casting, diving into this world with our core team gives us all a lived-in knowledge of how this play works.
How does it work? Here are some hopefully non-spoiler questions we're exploring:
How much control does Josie have over the world of the Forest?
Who is the mysterious Man, and what love keeps him in the Forest?
Is the Warren of the Forest the same Warren  of the city?
Is Eugenia native to the Forest? And why can't she calm her own baby?
How authentic is the love Everett feels for Belle and Eugenia?