Flux Sunday, 2/16/14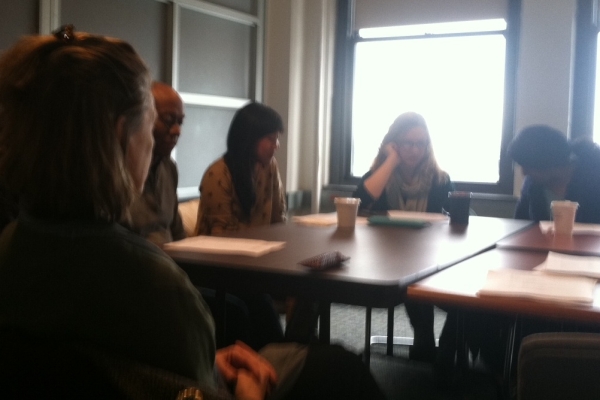 (Post and photos by August Schulenburg.)
We squeezed a bevy of talented theatre peeps into TCG for some reads around the table. While we always miss the space to stretch out provided by Judson and The Sandbox, on occasion it can be valuable to read longer stretches than we'd be able to stage on our our feet.
Playwrights: Katherine Burger (Gerald Figures It Out), Marielle Duke (The World to Come), August Schulenburg (The Sea Concerto), Nandita Shenoy (Washer/Dryer), Jason Tseng (Apotheosis)
Actors: Nicole Aiken, Sarah Amandes,  Pete Boisvert, Aizzah Fatima, Rachael Hip-Flores, Ken Glickfeld, Heather Lee Rogers, Daryl Lathon, Alisha Spielmann, Isaiah Tanenbaum, Jennifer Tsay, Anthony Wills Jr
Highlights included:
-Nandita not only brought the funny as a playwright, but also in her gleefully debauched read of Vivian in Gerald Explains It All, and as the grandmother in her own Washer/Dryer (it's not every day there's exit applause at Flux Sunday)
-Jennifer Tsay's hilarious yet formidable Dr. Lee in Washer/Dryer
-Another great Flux Sunday for Sarah Amandes, who brought pathos to Ami in The World to Come, and a deadpan comic energy to Magda in Gerald Figures It Out
-Rachael totally knocked that big monologue at the start of Apotheosis  out of the, er, panopticon, right?
-I'm so grateful to the group for their beautiful reading of that long chunk of The Sea Concerto–I learned so much!
If you were there, what memories would help you survive being trapped in the Panopticon?
---
Plays in 2014–Flux Sunday: Johnna Adams (The World Builders), Nicole Aiken (The Visit), Becky Byers (Roommates), Katherine Burger (Gerald Figures It Out), Marielle Duke (The World to Come), Aja Houston (Superwomen + Beauty Queens=World Peace?), Mariah MacCarthy (Sweet Fantasy; or, The Insomnia Play), Romy Nordlinger (The Feeling Part), August Schulenburg (Be Happy Be Happy Be Happy, The Sea Concerto), Nandita Shenoy (Washer/Dryer), Jason Tseng (Apotheosis), Anthony Wills Jr (11 1/2 Pieces on Death, Dying, Life and Living (A Comedy)) Other: Kristen Palmer (Once Upon A Bride There Was A Forest)