Flux Sunday, 2/2/14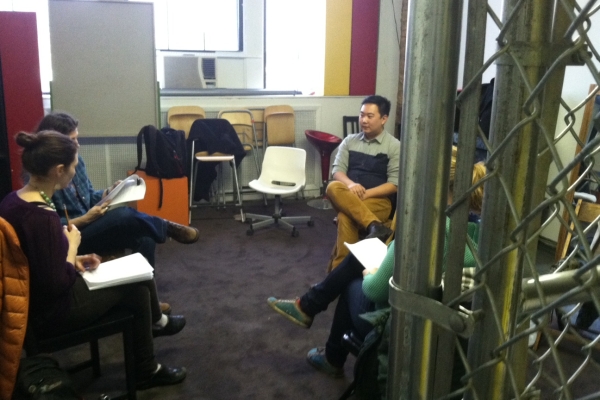 (Post and photos by August Schulenburg.)
We began our February Fluxing with a sparsely attended yet vigorously played Super Bowl Flux Sunday, back at the friendly confines of The Sandbox!
Playwrights: August Schulenburg (The Sea Concerto), Jason Tseng (Apotheosis)
Directors: Heather Cohn, Jesse Rosborow
Actors: Sarah Amandes, Ken Glickfeld, Adriana Jones, Heather Lee Rogers, Isaiah Tanenbaum
Highlights included:
-Heather's tour de force use of the space, with light bulbs, mirrors and magic abounding in her staging of Jason's Apotheosis
-I think this was my favorite Flux Sunday performance from Heather Lee Rogers yet! She so beautifully connected with Sophia's aching memory…
-Ken and Isaiah going toe to toe in The Sea Concerto
If you were there, what memory would you refuse to give to the Lillith?
---
Plays in 2014–Flux Sunday: Johnna Adams (The World Builders), Nicole Aiken (The Visit), Becky Byers (Roommates), Katherine Burger (Gerald Figures It Out), Marielle Duke (Ami), Aja Houston (Superwomen + Beauty Queens=World Peace?), Mariah MacCarthy (Sweet Fantasy; or, The Insomnia Play), Romy Nordlinger (The Feeling Part), August Schulenburg (Be Happy Be Happy Be Happy, The Sea Concerto), Nandita Shenoy (Washer/Dryer), Jason Tseng (Apotheosis), Anthony Wills Jr (11 1/2 Pieces on Death, Dying, Life and Living (A Comedy))
Other: Kristen Palmer (Once Upon A Bride There Was A Forest) 
Artists worked with in 2014–Flux Sunday: Johnna Adams(1), Nicole Aiken(2), Sarah Amandes(4), Ryan Andes(1), Pete Boisvert(3), Katherine Burger(2), Becky Byers(2), Heather Cohn (2), Stephanie Cox-Williams (1), Anne Dufault(3), Marielle Duke(2), Ken Glickfeld(3), Emily Hartford(1), Rachael Hip-Flores(2), Aja Houston(1), Adriana Jones(4), Mikalena Kenyon(1), Jen Kipley(1), Ricki Lynee (1), Mariah MacCarthy(1), Patrick Melville (1), Romy Nordlinger(1), Kelly O'Donnell(1), Anna Rahn(3), Jesse Rosborow(2), Heather Lee Rogers(5), August Schulenburg(5), Nandita Shenoy(4), Alisha Spielmann(4), Adam Swiderski (1), Isaiah Tanenbaum(4), Alexis Thomason(2), Matthew Trumbull(2), Jason Tseng(4), C.L. Weatherstone (1), Stephanie Willing(1), Anthony Wills Jr.(2), Christine Zagrobelny (1), Jason Zednick (1). The numbers in parenthesis are the number of Flux Sundays attended to help the Flux Creative Partners acknowledge and celebrate those who come week after week to help us develop new plays and community. Maybe we'll have a little award ceremony for the best attendance at the end of the year?