Flux Sunday, 2/23/14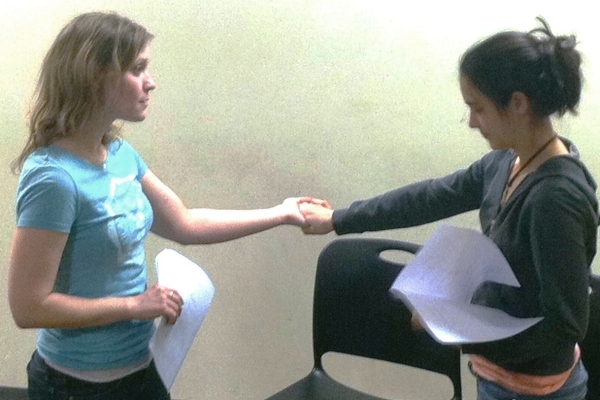 (Post and photos by August Schulenburg.)
We returned to Judson Memorial Church for a Flux Sunday that featured the final scene of Nandita Shenoy's Washer/Dryer, a play we've had the great joy of working through over the past several months. We also staged new scenes from Becky and Marielle's plays, and read through the first few pages of my resurrected play, Angel Juice.
Playwrights: Becky Byers (Roommates), Marielle Duke (The World to Come), August Schulenburg (Angel Juice), Nandita Shenoy (Washer/Dryer)
Directors: Jesse Rosborow, Christine Zagrobelny
Actors: Mariam Habib, Rachael Hip-Flores, Adriana Jones, Daryl Lathon, Romy Nordlinger, Heather Lee Rogers, Alisha Spielmann, Matthew Trumbull, Jennifer Tsay
Highlights included:
-Well, I admit I took a certain pride in my puppetry skills in creating the dryer in Washer/Dryer (and quite a lovely end to the play, as well)
-Adriana Jones and Heather Lee Rogers fearlessly venturing into emotionally raw and real places in The World to Come
-Seeing Alisha gender bend in Becky's Roommates for a little Sans Merci reunion (see picture above)
If you were there, what memories would you never wash in the washer/dryer?