Flux Sunday, 3/16/14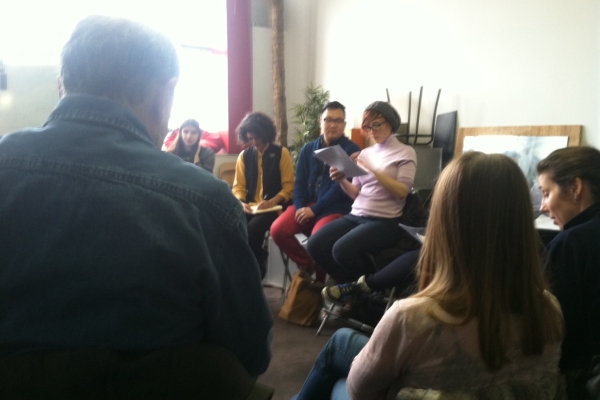 (Post and photos by August Schulenburg.)
Lots of pages! Seven playwrights brought work, and we were particularly thrilled to welcome back (if only for a moment) Lauren Ferebee and her wonderful words.
Playwrights: Johnna Adams (World Builders), Becky Byers (Roommates), Marielle Duke (Speaking Up), Lauren Ferebee (The Reckless Season), Kayhan Irani (The Tree of Seeds), Jason Tseng (Apotheosis) 
Directors: Marielle, Becky, Jesse Rosborow, Christine Zagrobelny
Actors: David Neal Levin, Isaiah Tanenbaum, Adriana Jones, Ken Glickfeld, Nandita Shenoy, Will Lowry, C.L. Weatherstone, Heather Lee Rogers, David Dartley, August Schulenburg
Highlights Included:
Well, it hardly seems fair to compare the other highlights to seeing Johnna as a dominatrix with Will in a ball-gag and clothes-pin nipple clamps in Becky's hilarious Roommates scene. I mean. Legendary. Also, I believe Will rapped in the very same Flux Sunday….
Isaiah's tightly wound Terry and David NL's friendly neighborhood meth dealer in Lauren's The Reckless Season.
Kayhan's evocative epic The Tree of Seeds–I can't wait to hear more scenes from this play
Getting to have a divine showdown against Nandita in Jason's play? Priceless.
C.L. dropping the bombshell of Max's fantasy world…and Adriana's Whitney choosing to keep listening, in Johnna's beautiful World Builders.
If you were there, what memories would you keep in your fantasy life?