Flux Sunday, 3/2/14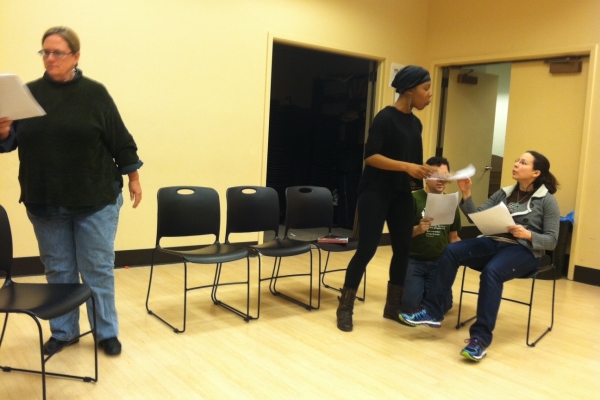 (Post and photos by August Schulenburg.)
After a week to catch our breath, we returned to Judson Memorial Church for Flux Sunday. A last minute drop-out had me filling the gap with a fair amount of Angel Juice pages. We were also delighted to have David Ian Lee return for a cameo from his sojourn (mid)West!
Playwrights:  Becky Byers (Roommates), August Schulenburg (Angel Juice), Jason Tseng (Apotheosis)
Directors: Marielle Duke, Christine Zagrobelny
Actors: Pete Boisvert, Leila Ghaznavi, Ken Glickfeld, Adriana Jones, Jen Kipley, David Ian Lee, Montserrat Mendez, Anna Rahn, Heather Lee Rogers, Nandita Shenoy, Alisha Spielmann, Isaiah Tanenbaum, Jane Lincoln Taylor, Matthew Trumbull, Kamaria Williams
Highlights Included:
There will be other Highlords of the Patriarchy in Jason's Apotheosis. But will their blades be quite as keen as David Ian Lee's?
I could have watched Jen Kipley read the Sarah part in Becky's play oh, at least three more times, and still found it hilar(ious).
Which Senator Powers was the more terrifying? Jane's royal power, or Nandita's sly subterfuge?
Anna Rahn and Adriana Jones not only brought the sweet acting, but some choice sound design as well (who needs directors?).
If you were there, what memory would you put in your juice smoothie?