ForePlay: Extra Credit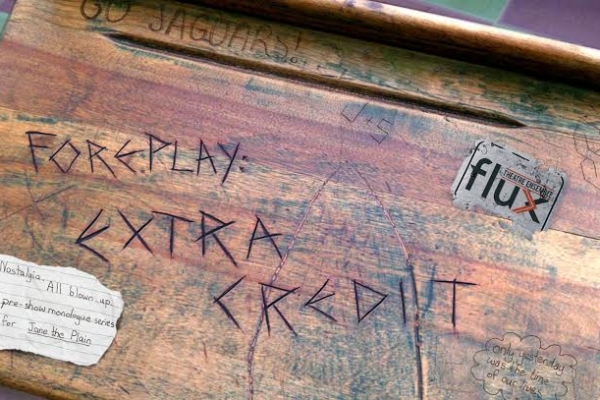 (Graphic design by Will Lowry.)
Update: the ForePlay: Extra Credit schedule is announced!
5/15: Just Homer by Mike Mihm, performed by Matthew Murumba
5/16: The 8-Bit Invocation by Jason Tseng, performed by Neimah Djourabchi
5/17: an infinity of strangers by Lauren Ferebee, performed by Marnie Schulenburg
5/19: The Extraction by Nat Cassidy, performed by Mike Mihm
5/20: The Moving Power by Aja Houston, performed by Rachael Hip-Flores
5/21: Kore by Shaun Fauntleroy, performed by Stephanie Cox-Williams
5/22: Two Clubs by Adam Szymkowicz, performed by Ken Glickfeld
5/23: Fast Food Blues by Nandita Shenoy, performed by Matthew Trumbull
5/24, matinee: Girl Gone Gorgon by Mac Rogers, performed by Shaun B Fauntleroy
5/24, evening:  Dairy Carrie!, by Lori E. Parquet, performed by Stephanie Willing
Directors: Christine Zagrobelny and Emily Hartford
—–
Are you ready for some Extra Credit?
Welcome to Extra Credit, the next installment of  ForePlay, Flux's series of short plays inspired by the themes of a full production. This ForePlay riffs on the themes of our upcoming production of Jane the Plain, playing at the 4th Street Theatre from May 9th-24th.
This time, however, we're shaking things up: rather than a series of staged readings leading up to the production, we're embedding this ForePlay into the run of Jane the Plain itself. This means that you'll want to show up early for the performances, because you might just catch a little "extra credit": a special monologue performed that night only!
ForePlay: Extra Credit is a series of pre-show monologues based on real high school stories transformed into mythical encounters by our community of playwrights. We're soliciting high school stories from you–yes, YOU–and then our playwrights will use those stories as inspiration for short monologues in the style of Jane the Plain. Your high school story might very well wind up on the stage (right where it always belonged).
Here's how how it works: fill out this form.  You'll be asked to respond to one of two prompts, whichever you like best: "Describe a day in high school when your life changed forever," or "What is your craziest high school story?" Then, we'll share the stories with our community of playwrights, and they'll pick whatever inspires them to turn it into a monologue. We'll share the monologue with you, and if everything feels right, we'll stage it before a performance of Jane the Plain…which will make it the perfect night for you to bring all your friends to the show.

So go ahead: share your high school story with us, and then spread the word far and wide! Email Sol Crespo with any questions or ideas.
Why ForePlay? When working on a full production, many in our core community of artists are left out of the action. ForePlay involves a wider circle in the creative process, and explores and expands the themes of the full production. A ForePlay accomplishes the following goals:
1. To widen the circle of artists connected creatively to a full production;
2. To generate material that has intrinsic value but might also inspire playwrights to write full-length plays based on their shorts (many ForePlay plays have grown into full-length plays!);
3. To deepen the thematic exploration of the main production; and
4. To further explore non-traditional means of theatre-making towards Flux's strategic Big Artistic Risk Project.
Past ForePlays have included Human 2.0, New World Iliads, Divine Reckonings, Poetic Larceny, and The Imagination Compact.