Have Another with Adam Szymkowicz, VIOLENT BONES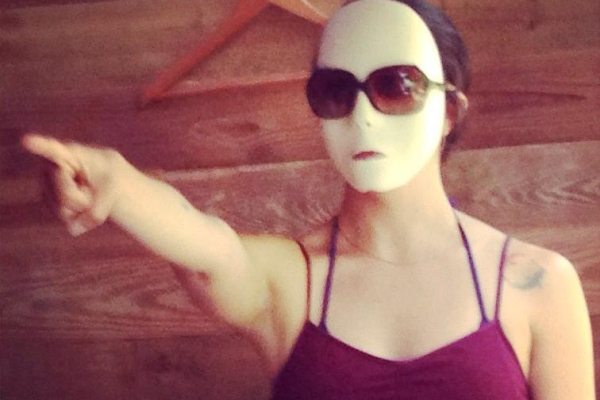 (Photo by Adam Szymkowicz of Sol Crespo as EMMA in Violent Bones at the 2014 Flux Retreat.)
To prepare for our next Have Another Retreat Harvest (RSVP here), we asked our contributing playwrights some hard-hitting, incisive questions about their work and the Retreat experience. First up, longtime Flux favorite Adam Szymkowicz!
Tell us a little about your play, Violent Bones.
ADAM: It's about young writers who became successful but don't know what to do with themselves now. They are violent in various ways, some literal. And it's a comedy.
What was your experience like working on this play at the Flux Retreat?
It was great to see it on it's feet. I was particularly interested in seeing what effect the masks would have on the experience. It was good to get a taste of that.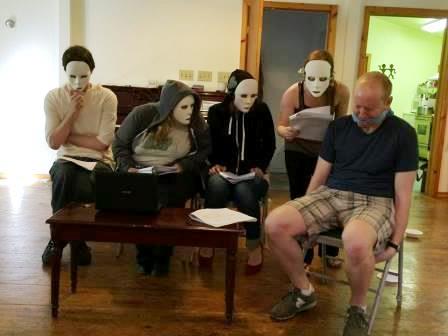 (Photo by Ryan Andes of Violent Bones. Pictured: A bunch of neutral masks and Will Lowry.) 
Please share with us a favorite Flux Retreat memory.
How scary the masks from my play are by the campfire. Is there a photo of that Isaiah?
This event is called "Have Another." If you're drinking more than one, what's your drink of choice?
Bourbon.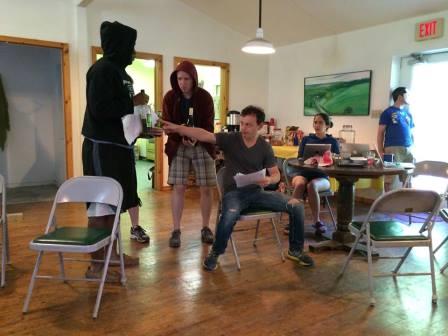 (Photo by Ryan Andes of Violent Bones. Pictured: Chinaza Uche, Will Lowry, Matthew Trumbull, Rachael Hip-Flores, Isaiah Tanenbaum.)
What projects do you have coming up that we should know about?
Clown Bar at the box in NYC. Hearts Like Fists production numbers 9-13 in Durham, NC; Topeka, KS; Fullerton, CA; Columbia, MO; Cincinnati, OH.
---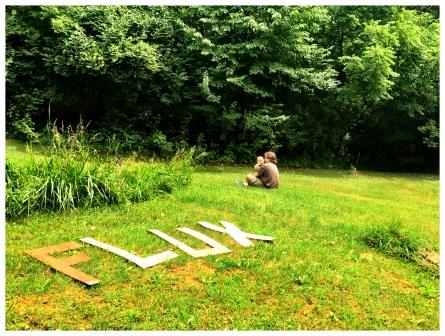 (Photo of Adam and Wallace Szymkowicz by Alisha Spielmann.)
ADAM SZYMKOWICZ's plays have been produced throughout the U.S., and in Canada, England, The Netherlands, Germany and Lithuania. His work has been presented or developed at such places as MCC Theater, Ars Nova, South Coast Rep, Playwrights Horizons, LCT3, LAByrinth Theater Company, Rattlestick Playwrights Theater, Primary Stages, The New Group, Southern Rep, Rising Phoenix, The Lark, Chicago Dramatists and Studio Dante among others.
Plays include Deflowering Waldo, Pretty Theft, Food For Fish, Hearts Like Fists, My Base and Scurvy Heart, Herbie, Incendiary, Old Fashioned Cold Fusion, Bee Eater, Clown Bar, Fat Cat Killers, The Why Overhead, Elsewhere, Where You Can't Follow, A Thing of Beauty, UBU, Mercy, Rare Birds, Violent Bones, Sarah, Good Morning Good Night, and Nerve.
Adam received a Playwright's Diploma from The Juilliard School's Lila Acheson Wallace American Playwrights Program and an MFA from Columbia University where he was the Dean's Fellow. Szymkowicz is a two-time Lecomte du Nouy Prize winner, a member of the Dramatists Guild, Writer's Guild of America, Primary Stages' Dorothy Strelsin New American Writer's Group, and was a member of the MCC Playwright's Coalition and a founding member of the Ars Nova Play Group.
He was the premiere Resident Playwright at The Chance Theater in Anaheim, CA and the first playwright to participate in Bloomington Playwrights Projects' Square One Series. He has been to The Orchard Project, served twice as Playwright in Residence at the William Inge Center, received a grant from the CT Commission on Culture & Tourism, and was commissioned by South Coast Rep.
His plays are published by Dramatists Play Service, Samuel French, Playscripts, Original Works Publishing, Indie Theater Now and featured in New York Theatre Review '07 and '09, NYTE's Cino Nights, and numerous Smith and Kraus books.
He has written articles for Howlround, New York Theatre Magazine and The Brooklyn Rail and has interviewed over 680 playwrights on his blog. He also has a web series called Compulsive Love (NYTVF) and a comic strip called Toys In My House Comics.
For more, go to www.adamszymkowicz.com.