Flux Sunday, 10/26/14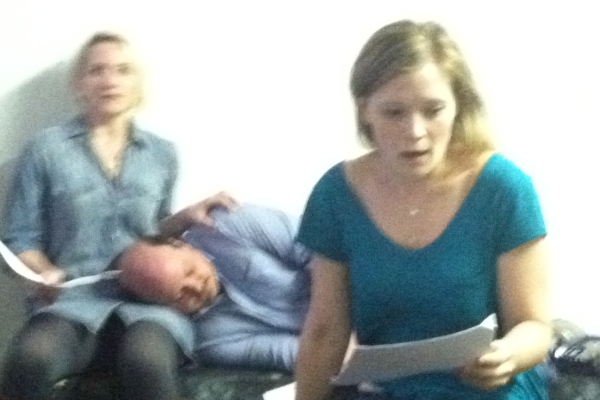 (Post and photos by August Schulenburg.)
Well, I think we're finally back. Though we owe this blog many Flux Sunday updates, it's also true that we've been able to meet less frequently, and when we have met, it's often been in fewer numbers since the full sessions earlier in the year. At last, we felt truly back in action this Sunday with four strong scenes.
Playwrights: Nat Cassidy (Demon Hunter), Montserrat Mendez (Marq as Unread ;or, Duplicitous Attachment), August Schulenburg (Taina and Marvin); Jason Tseng (Outbreak) 
Directors: Nat, Chris Tedrick, August and Christine Zagrobelny
Actors: Ken Glickfeld, Rachael Hip-Flores, Adriana Jones,  David Neal Levin, Dara O'Brien, Chester Poon, Anna Rahn, Heather Lee Rogers, Alisha Spielmann, Isaiah Tanenbaum
Highlights Included:
The opening moment of Duplicitous Attachment involved the most creative use of The Sand Box space I've seen in a while…not to mention there was the pleasure of watching Chester add another villain to his burgeoning collection.
David NL just killed Nat's riotous opening to Demon Hunter, making an aria of annoying indecision a pure delight;
Christine's beautiful twisting, turning staging of the first scene of Jason's Outbreak. It had a jagged, rhythmic quality that paired beautifully with the scene.
Ken and Rachael in my scene? #Spoiled
If you were there, what memories would you try to keep from the zombies if they came from your brains?