Flux Sunday, 1/18/15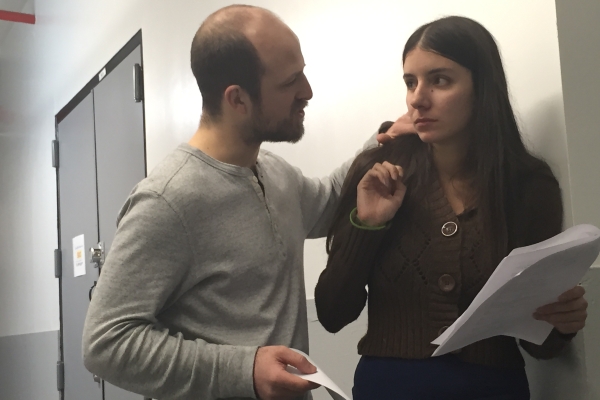 (Post by August Schulenburg Photos by Isaiah Tanenbaum.)
Our second Flux Sunday of 2015 brought us back to our beloved Sand Box with some scenes that were in Flux's sweet spot. We've been talking a lot about the intersection (if there is one) ((please let there be one)) between our love of genre world-building and politically-themed theatre, and two of the scenes resonated in that overlapping space.
Playwrights: Johnna Adams (Untranslatables), August Schulenburg (Taina and Marvin); Jason Tseng (Outbreak) 
Directors: Heather Cohn, Christine Zagrobelny
Actors: Justin Hoch, Dara O'Brien, Emily Hartford, Alexis Thomasson, Heather Lee Rogers, Isaiah Tanenbaum, Adriana Jones
Highlights included:
Has anyone else noticed that Alexis has been tearing shit up at recent Flux Sundays? This last Sunday was no exception, with a grounded, highly present performance in Taina and Marvin.
I can't help but geek out over Johnna's new play, which was inspired by one of my favorite short play's she's written, one I've been dreaming to be turned into a full-length for some time. Christine also directed this one beautifully, even working in a lighting design in support of a nuanced read of a massive monologue deftly delivered by Emily.
Justin's last several Flux Sundays have been in a "seducer" role…at which he seems to be a natural. Be warned, fellow Flux Sunday attendees: you may be seduced by the Hoch.
If you were there, what untranslatable moments will you remember?