Flux Sunday, 2/8/15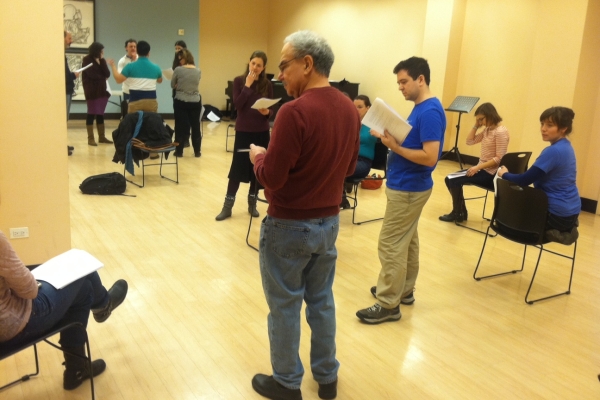 (Post and photo above by August Schulenburg. Photos below by Isaiah Tanenbaum.)
We returned to Judson for our most jam-packed Flux Sunday of 2015. The theme of the Sunday, if you were wont to find one, was a fascination with very unusual after/other lives: sim worlds, churches of the undead, ghosts of fathers and retired mediums….and as a delightful outlier, the intersecting world of pets and owners. We also welcomed some long overdue faces, like Once Upon A Bride stars Brian Silliman and Arthur Aulisi.
Playwrights: Johnna Adams (Untranslatables), Katherine Burger (Animal Attraction), Fengar Gael (The Demon Poet), August Schulenburg (KD and the Band), Jason Tseng (Outbreak) 
Directors: Zachary Tomlinson, Christine Zagrobelny
Actors: Justin Hoch, Emily Hartford, Alexis Thomasson, Isaiah Tanenbaum, Adriana Jones, Matthew Trumbull, Arthur Aulisi, Ken Glickfeld, Isaiah Tanenbaum, Matilde Kizer, Jeanette Bonner, Caitlin Crombleholme, Leila Ghaznavi and Brian Silliman
Highlights included:
Justin being a lovable sweetness to Sweet Pick in KD and the Band, and then a dangerous (and funny) coolness to Owen in Untranslatables (on it);
Leila deliciously love-stricken pet owner in Katherine's Animal Attraction;
Christine Zagrobelny's taut, in-the-round direction of Johnna's Untranslatables;
The several subtle yet deeply felt moments that Matthew brought to Brynne in Jason's Outbreak (which is REALLY heating up plot-wise);
Brian, Jeanette and Zachary hitting just the right so-serious-it's-funny tone for Fengar's The Demon Poet.
If you were there, what memories would you never roll back in the sim machine of our lives?
And here's a few more photos from Isaiah of the action: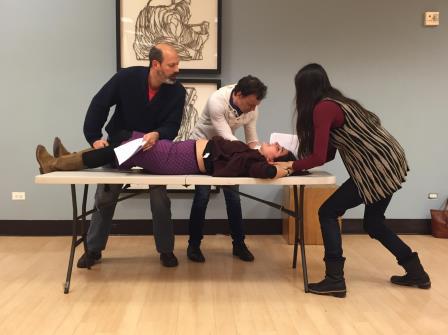 (It's zombie time, y'all, and Matilde would kindly request the pleasure of your brains.)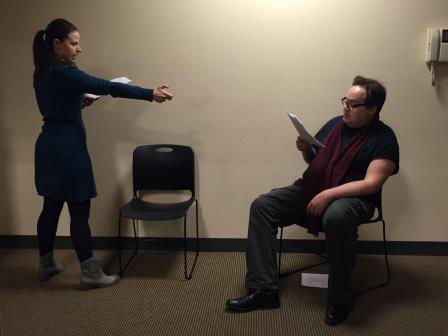 (Don't worry: no Sillimans were shot in the making of this photo. Also, there was some Grade A scarf acting in this scene.)