Living Ticket, Week Four, Opening!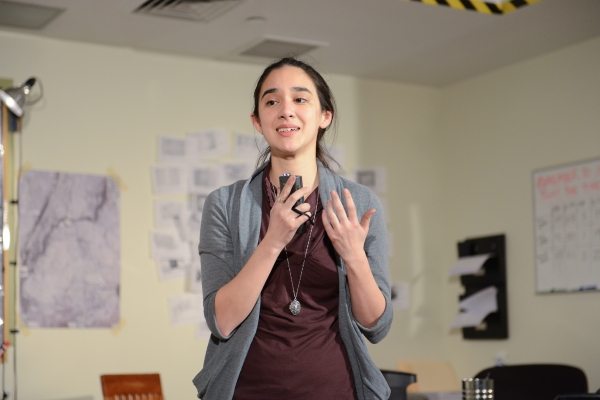 (Photo by Deborah Alexander. Post by August Schulenburg. Read more about the Living Ticket and Open Book programs, and then reserve your Salvage Living Ticket today.)
If you read the Week Three update, you know that after a late start, Salvage had finally caught up with and then exceeded attendance and income marks for our two previous shows at a week from opening. But, without a press agent and with a smaller house capacity, could we maintain or extend that through the opening week?
The answer is yes, but as usual, there are a lot of caveats. First, the good news:
238 Living Tickets reserved!
At this same point in the run, Once Upon a Bride There Was a Forest had 145 reservations, and Jane the Plain had 209.  While it will ultimately be impossible for us to pass Jane–we just don't have enough seats in the house–it's very positive for us to be ahead of both at this time because we can't count on reviews to help us (we do have some reviewers, but nowhere near as many as when we were working with the amazing Emily Owens–more on that decision here).
Equally positive is the income picture: at this same moment in time, Bride had brought in $1,809 in ticket sales and Jane $1,970; whereas through Living Ticket donations, Salvage is at $3,175. We still have a long way to go to reach our break-even goal of $12,797 (let alone our Minimum and Living wage budget goals), but we're off to a solid start.
What's most exciting, however, is the accessibility piece–a large student group attended several shows this week, and more are coming. These particular students attend a community college and would be priced out by even the standard $18 ticket price of an AEA Showcase Code production. For some, this was one of the first plays they'd ever seen. Because of the Living Ticket (and one amazing teacher) they're not only attending but bringing their friends, and a few are intending to come back to see Salvage again.
It was an emotional opening week–after rehearsing up to the last second for a charged first preview to a full house, our Thursday audience was the smallest we've had in years. Friday opening was near full again, and we began the show by honoring the passing of The Living Theatre's co-founder Judith Malina by reading a diary entry of hers about The Tempest written exactly seventy years earlier. On Saturday night, some of the students stuck around for a talk back and asked deeply thoughtful questions about the play and the process.
In that talk-back, it occurred to me that there is a moment in the play where a character honors the loss of someone by playing that second person's memory of the loss of a third person by reciting their translation of a poem written by a fourth person who was actually transcribing a poem passed down through oral tradition written by a fifth person who in that poem was remembering the loss of a sixth person (don't worry, it will all make sense when you see the show, maybe). More than 1500 years and several different languages pass between the first and the sixth person, all united in living memory by a single line of poetry, I am the base of the sacred oak tree where they say you stood…
And then I think of us quoting Judith Malina (who seventy years ago was quoting Shakespeare) ((written 400 years ago)) to students seeing their first play, we are such stuff as dreams are made on, and get a little dizzy, and wonder how theatre can be both so ephemeral and so resilient; how a stature endures time but theatre transforms it, so that we ourselves are standing at the base of an oak tree in Japan 1500 years ago, remembering someone we loved, or standing on the great Globe itself, which left not a rack behind and yet for a moment becomes more real than anything, how life is only breath, and memory the words we carry forward on that breath…
Something too much of this. Another week awaits, and while three of the nights are looking close to full, two are in definite need of more humans, and so we return to the labor of persuading people to leave the comfort of Netflix and breathe together in the same room.
Read more about the Living Ticket and Open Book programs, and then reserve your Salvage Living Ticket today!