Breathe Free at Judson, Photos
(All photos by Isaiah Tanenbaum. Pictured: Mother of Exiles. Post by Corinna Schulenburg.)
From the Creative Partners of Flux and all of us on the Food:Soul committee, thank you to everyone who made Breathe Free possible. A packed house at Judson Memorial Church showed up for free food, poetry, plays, dance and screenplays–even an interactive information circus–all on the themes of our deportation crisis and immigrant rights. It was a powerful night of theatre, and it looks like our collaboration with the New Sanctuary movement will continue!
In fact, it already has: yesterday (May 24, 2015) Flux and New Sanctuary collaborated with the amazing Loisaida Center on remounting two of the scenes at La Plaza Community Garden for the Loisaida Fest Theater Lab 2015. But lots more on all that in an upcoming post. For now, let's celebrate what one community member kindly called "the best marriage of arts activism" she'd ever seen #HeartFlutter.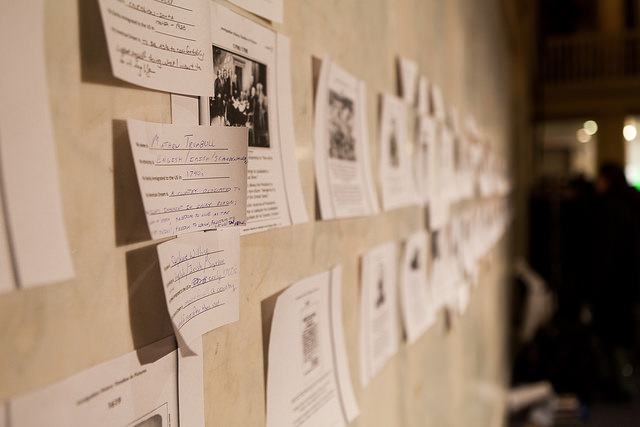 On Display In the Space
Timeline created by Jason Tseng
This super-cool interactive installation allowed participants to add their own immigration stories to a history of immigration. It was fascinating to see the range of dates added to the timeline, and we've saved the documents to bring it back, should we play Breathe Free in another indoor space. A huge thanks to Jason Tseng for pulling this together!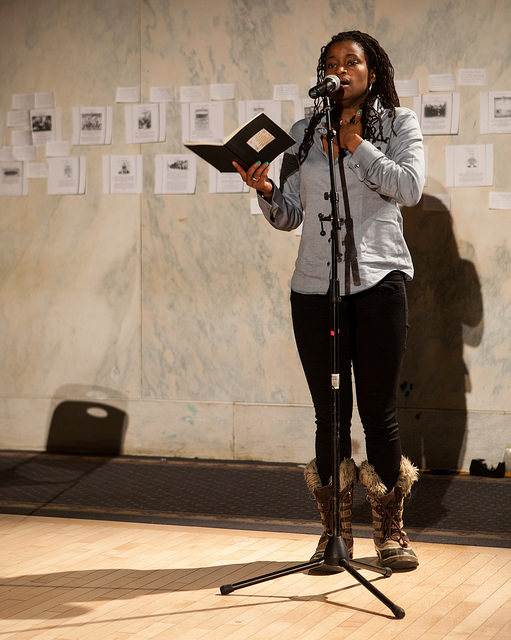 My Friend Receives a Voicemail. Tells Me a True Story.
written and performed by Lauren Ash Williams
Lauren Ash Williams' poetry was one of the highlights of our Understand Our Ground Food:Soul, and her moving "found" poem–a transcription and remix of a phone call with a friend after he faced a difficult situation–was sited by several of our post-reading survey takers as their favorite part of the night. Thank you, Lauren, for your beautiful words and commitment to justice!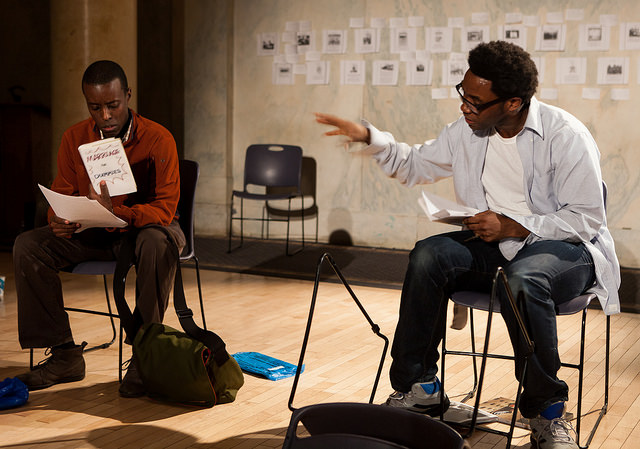 Paper Prince (excerpt)
written by Ekwa Msangi
featuring Lori E. Parquet, Matthew Murumba, & Chinaza Uche
Bringing a generously comic and warm-hearted take on the immigrant experience to the night, Ekwa Msangi's staged screenplay definitely provided some much needed comic relief. It helps, of course, o have a cast like Lori, Matthew and Chinaza. I think we all left the night wondering how quickly we can get the three of them together in a play again…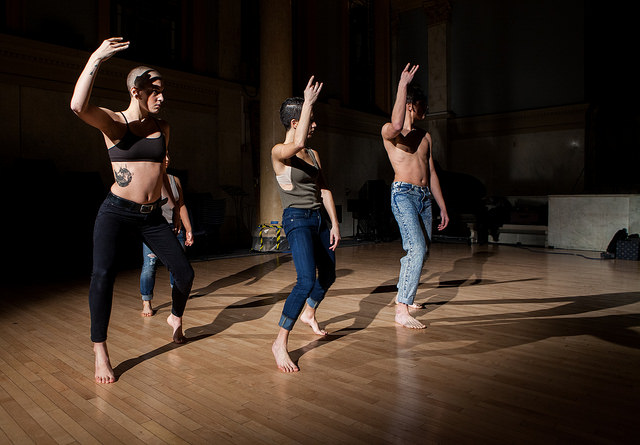 San Diego Na
choreographed by Trevor Salter, sound design by Jorge Morales
featuring Stephanie Hsu, Kaitlin Ingram, Paloma Rabinov, & Chris Tse
Trevor Salter's choreography brought the themes of the night to gorgeous, haunting life.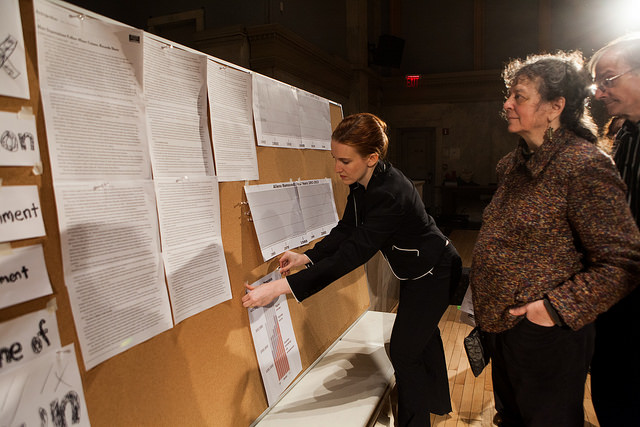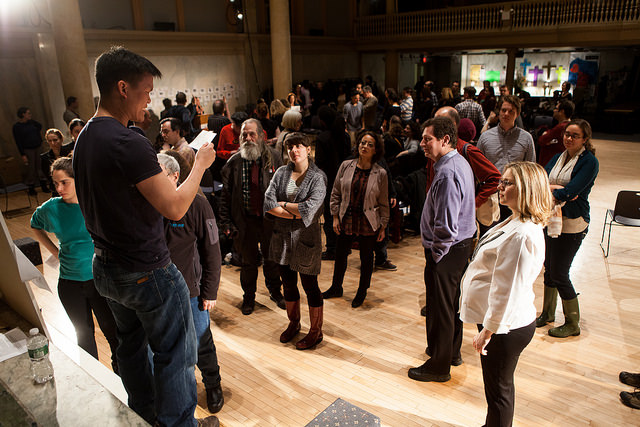 Secure Communities: Information Circus
created by Christine Zagrobelny
written by Jason Tseng
translated by Sol Crespo
featuring Sarah Amandes, Nicole Betancourt, Ken Glickfeld, Emily Hartford, Adriana Jones, Chester Poon, Adriana Sananes, Jane Lincoln Taylor, Matthew Trumbull, Stephanie Willing
Christine Zagrobelny's brilliant information circus brought to dizzying life the realities faced by those under threat of deportation. Drawing from numerous source materials, she created a participatory maze of scenes from our recent immigration past here in NYC, focused on the troubling "Secure Communities" law. Learn more about the process of creating Secure Communities: Information Circus here.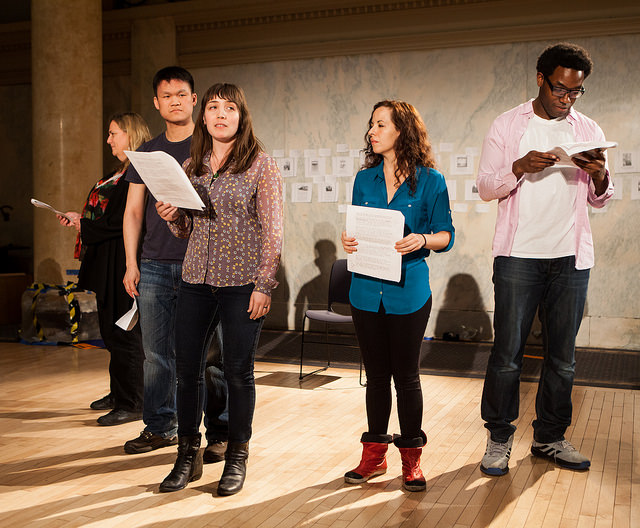 A Gang of Witnesses
written by Jason Tseng, directed by Corinna Schulenburg
featuring Nicole Betancourt, Emily Hartford, Chester Poon, & Jane Lincoln Taylor
Based on an interview with an immigration activist who was wrongfully imprisoned at Rikers and a Texas-based detention facility, this choral version of Jason Tseng's A Gang of Witnesses brought this harrowing story to life–and reminded us what is possible when we commit to fighting unjust deportation laws. Lean more about the process of making A Gang of Witnesses here.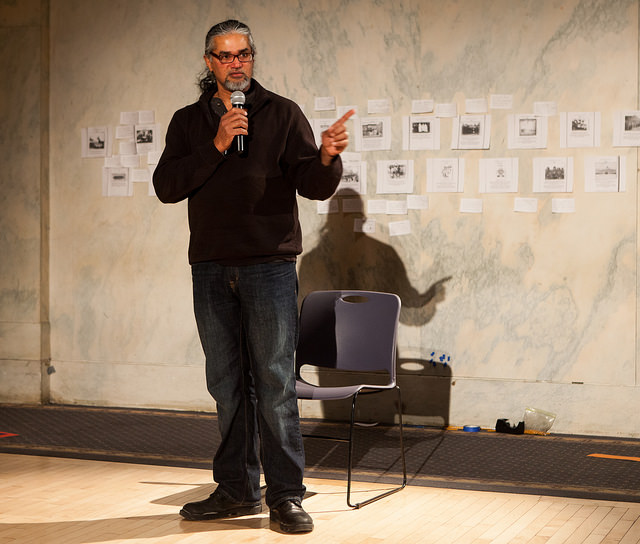 Remarks from Ravi Ragbir
Director, The Accompaniment Program at New Sanctuary
Ravi's moving address about the work of the New Sanctuary movement put the personal stories we'd heard into their painful legal and cultural contexts, reminding us that the single story we'd heard in A Gang of Witnesses was one of the millions of stories of people deported and wrongfully imprisoned by our laws. Learn how you can get involved with New Sanctuary's important work here.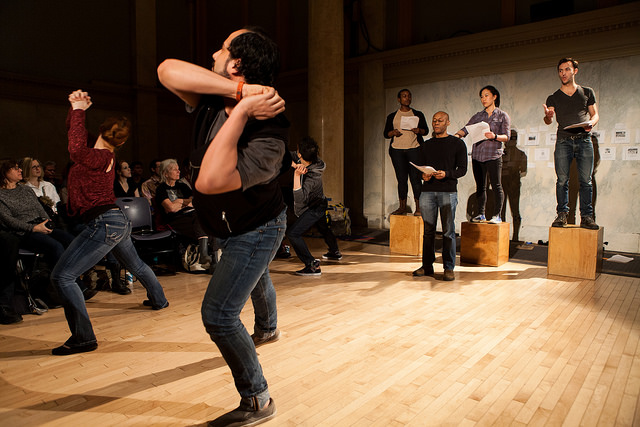 Mother of Exiles
devised using found text; directed and compiled by Emily Hartford
featuring Ivy Hong, Daryl Lathon, Carl Li, Collin McConnell, Antonio Miniño, Lori E. Parquet, & Stephanie Willing
We closed with Emily Hartford's Mother of Exiles, a devised piece that braided together the evocative invitation of Emma Lazarus' famous poem on the Statue of Liberty with today's more hostile deportation language, as well as stories from interviewed immigrants. Emily and her team did extraordinary work in carrying those words into their bodies and giving them a visceral theatrical life. In the end, the cost of our cultural and legal hostilities to certain people is always bourn by the body: bodies deported, bodies imprisoned, bodies bereft. This wonderful closing piece bore witness to that, but also reminded us that the promise of hope likewise blossoms in the body: heads uplifted, hands intertwined, the welcoming promise of love the only American dream worth saving.
Learn more about the process of creating Mother of Exiles here.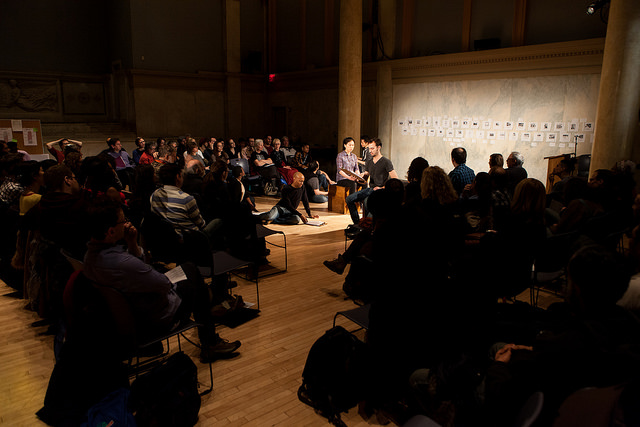 Food:Soul unites the community-building of a potluck dinner with the play-development of a workshopped staged reading. Learn more about past Food:Soul's here.
The BREATHE FREE creative team is: Sol Crespo, Heather Cohn, Emily Hartford, Montserrat Mendez, Anna Rahn, Corinna Schulenburg, Jason Tseng and Christine Zagrobelny.
BREATHE FREE drew from the discoveries and processes of the Understand Our Ground Food:Soul, which you can learn more about here and here.