Congrats, Becky! (And Retreat Day Two)
(Photo by Isaiah Tanenbaum. Pictured: Becky Byers, Will Lowry. Post by August Schulenburg.)
Before we can say anything about Day Two of the Retreat, we have to dance the happy dance in celebration of Creative Partner Becky Byers' IT Award Nomination for Belle in Once Upon A Bride There Was A Forest. We share this iconic photo from the Retreat where we first workshopped Bride and Becky gave her indelible stamp to the role.
This marks the third Flux role for which Becky has been nominated: JoJo in Dog Act, Nina in Hearts Like Fists and now Belle in Once Upon A Bride There Was A Forest. What an amazing hat trick of performances, and how lucky we are to have her as a Creative Partner. Go Becky!
Congratulations as well to the many Friends of Flux who were nominated, to our many sister companies who were recognized, and to all the nominees of confirming the vitality of the NYC theatre scene (and a huge ongoing thanks to the New York Innovative Theatre team for all the work they do to make it happen).
*****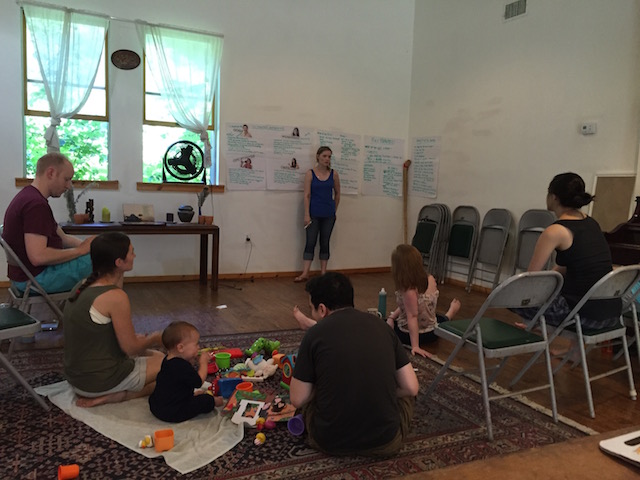 Our second day of the Retreat was just as emotionally draining as the first, and the key areas where we lack consensus have made specific strategic planning difficult. That said, there have been many valuable take-aways and discussions, including:
How can we stop treating Creative Partner compensation as the place where we first make cuts?
When does budgetary realism become a self-fulfilling–and self-defeating–prophecy?
Can programs like FluxForward address our concerns about scarcity of opportunities?
Now that we live in multiple cities, could we take on multiple productions of the same play in different cities?
What is the priority in choosing new Creative Partners: Number of previous collaborations with Flux? Artistic excellence? Producing chops? A different perspective or skill-set than what we currently have in the ensemble? How many CPs is too many?
How do we deal with Friends of Flux developing roles through FluxForward that are ultimately intended for Creative Partners?
How should FluxForward connect–or disconnect–with our regular programs like Flux Sunday?
If a particular residency comes through that offers compensation to only some Creative Partners, how do we balance that with our commitment to pay equity?
Throughout the day, we were met with the difficulty of not having resolved key issues from the day before:
How deeply should community-building work like Breathe Free be embedded into Flux's mission and programming? Or should we stop doing that work because we don't have the capacity? The lack of resolution around this key area of identity would become a central flash point on day three.
How much agency should CPs have in pursuing passion projects within Flux that don't resonate with a majority of other CPs?
How does Flux successfully become a multi-city entity? Should it?
These unresolved challenges were compounded by two additional challenges:
We were unable to reach consensus on new Creative Partners; and
We were unable to reach consensus on a season plan.
These five unresolved issues would become significantly problematic in Day Three of the Retreat, yet it was still a beautiful day of collaborative creation. If we can create a synthesis of our differences where everyone can see themselves in the decision, I know we will be much stronger for it!