Flux Tuesday, 6/30/15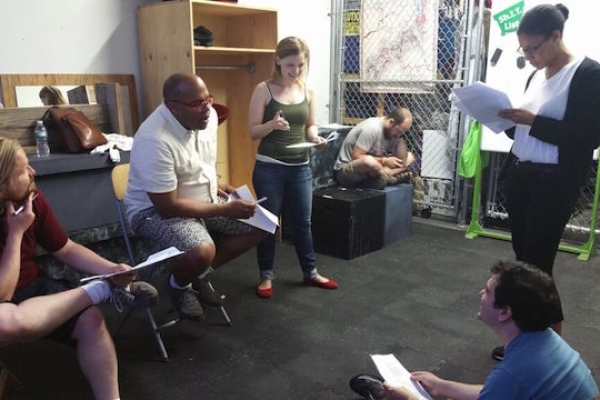 (Photos by Kia Rogers and post by Kelly O.)
This Flux Sunday was special for two key reasons:
It focused entirely on two FluxForward plays from Kevin R. Free and Adam Szymkowicz; and
It was on a Tuesday night!
Playwrights: Kevin R. Free, Adam Szymkowicz
Directors: Christine Zagrobelny directed Kevin's plays and Adam's plays were directed by the actors.
Actors: Anna Rahn, Isaiah Tanenbaum, Jillian Joseph, Emily Hartford, Justin Hoch, Lori Parquet, David DelGrosso, Alisha Spielmann, Dara O'Brein, Heather Lee Rogers, Chinaza Uche, Kia Rogers, and Kelly O'Donnell
Highlights included: We looked at four plays from these two Flux Forward writers: MARIAN SMOULDERING OR THE TRUE TALE OF ROBIN HOOD and ALCOTT by Adam, and ANATOMICAL LEWIS and NIGHT OF THE LIVING N-WORD by Kevin. Robin Hood is a whimsical comic take on Robin Hood that plays with gender and power…and sword fighting. ALCOTT is a play that Adam is writing for a women's college so it was great to help him develop a few scenes. ANATOMICAL LEWIS is a surreal and fantastical play about an African American slave named Lewis who was "assigned" to the University of Virginia in the 1800s to clean cadavers at the Anatomical Theater. It's a true story, with some wild and inventive Kevin Free twists!
We didn't get a lot of pictures this day but here are a few!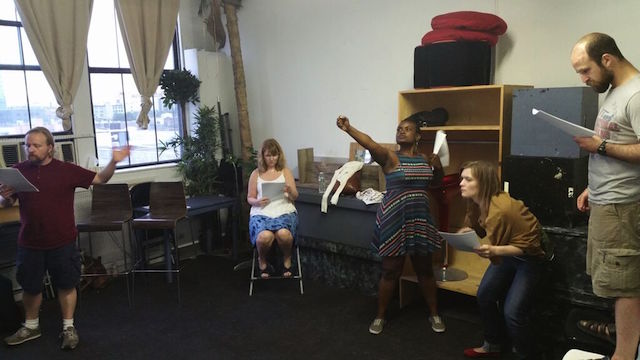 The actors in Adam's new version of MARIAN SMOULDERING OR THE TRUE TALE OF ROBIN HOOD creatively directed themselves, playing multiple parts, and brought us to the archery competition of Prince John (played by David delGrosso). The scene featured many disguises and illusions that I'm sure you are wondering how they pulled off. For example, Justin Hoch as Little John is not really that tall, and that old man (second from the right) is actually Alisha Spielmann!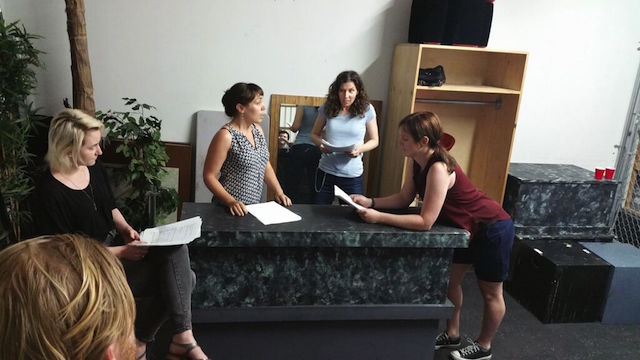 A rare acting appearance by Kelly in Adam's play, Alcott, set in an all-women's college. Young minds mingle, love triangles develop, and lesbian drama ensues. In this scene, Prague (played by Kelly) tells Erin (Emily Hartford) that she needs her to write a play for her to direct. Emily's roommate, Jessie (Anna Rahn) and Emily's barista trainer, Geri (Heather Lee Rogers) look on in wonder.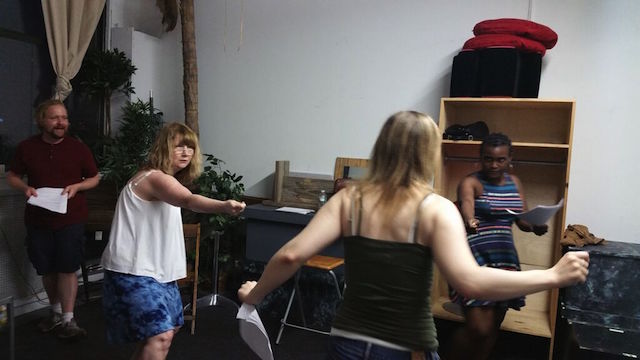 Prince John sics his guards, Dara O'Brien and Lori Parquet on Robin Hood (who is actually Alisha Spielmann playing Robin Hood disguised as an old man but who is really Maid Marian who, when it comes down to it, is actually the Spider Turkey).
Adam and Kevin's plays, along with plays by Nandita Shenoy and Chisa Hutchinson were developed further at the Flux retreat which you can read about here if you'd like.