Flux Retreat Day Seven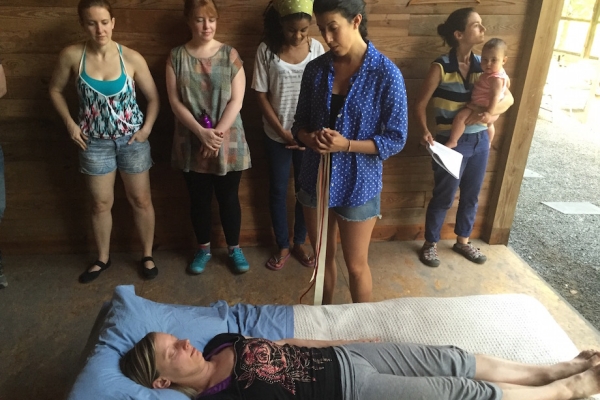 (Photo and post by August Schulenburg.)
Our final full day of activity at the Retreat ended on a strong note with plays from Chisa Hutchinson and Kristen Palmer, followed by a fire-pit at the clearing on the hill. With fewer pages to wrangle on this final day, we were able to hear all of Chisa and Kristen's complete plays, and stage large swaths of them!
Chisa's play The Wedding Gift features aliens, an invented language, and a grim future…so yeah, pretty much right up Flux's aesthetic alley. Doug, a man from the earth, is captured and enslaved as a love toy by a royal family of human-like aliens equally capable of cruelty and compassion. What is he willing to give up in order to survive and make it back home to his daughter? Can he (and the audience) learn to decipher their beautiful and strange language? Is love possible without freedom? The play is funny, satisfyingly strange, linguistically dazzling and viscerally compelling, and it took me some time to shake the twists of the end.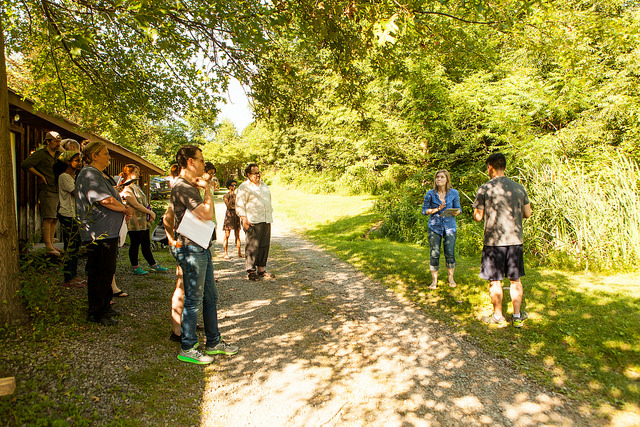 (Photo by Isaiah Tanenbaum. Pictured: The final scene of The Wedding Gift.)
Highlights included:
 The moving ritual of farewell (pictured with Sol and Kia at top);
The sad, hopeful, surprising final scene of liberation and loss (pictured above, and beautifully rendered by Alisha and Chester);
The language! Did we mention the invented language?! (Which I almost began to understand by the end);
Jane Taylor's powerful and precise breakdown at the dinner table;
A beautiful scene of growing trust between Chester and Sol (pictured below); and
The joy of the pampered process fan scene (pictured two below).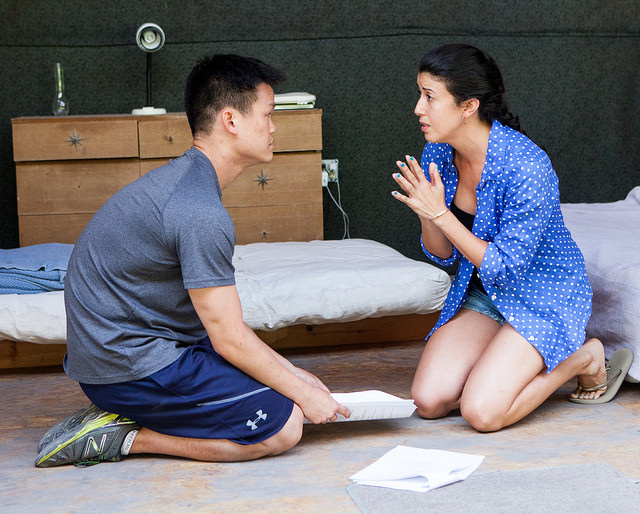 (Photo by Isaiah Tanenbaum. Pictured: Chester Poon and Sol Crespo in The Wedding Gift.)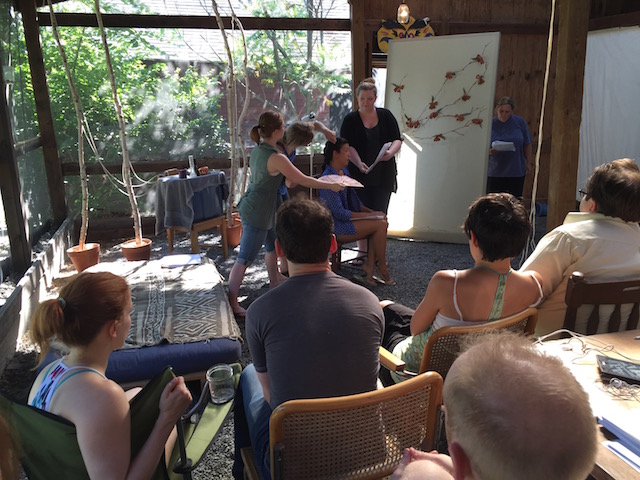 (Photo by August Schulenburg from The Wedding Gift.)
For Kristen's play Mysteries of the Unknown, I was largely parenting, so I turn it over to my fellow Creative Partners:
Brian Silliman working out as Joe (Sol);
Janie Bullard was awesome during the process, stepping in not just with some sound effects of phones and elevators, but some absolutely lovely musical underscoring at the end of scenes, which I felt really boosted the emotional impact (Will); and
Kristen brought some of the actual Mysteries of the Unknown books that partly inspired the play! (Will)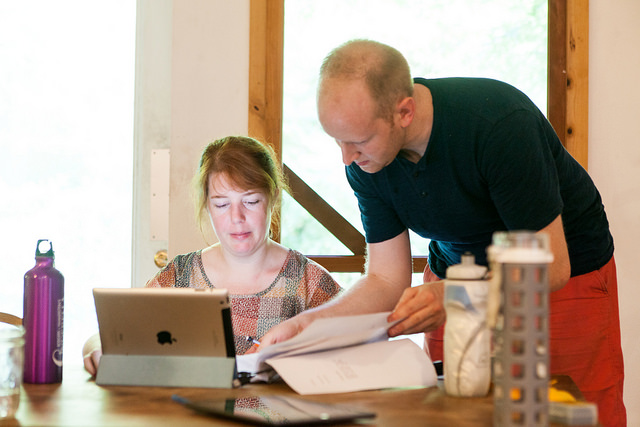 (Photo by Isaiah Tanenbaum. Pictured: Will Lowry and Janie Bullard working on Mysteries of the Unknown.)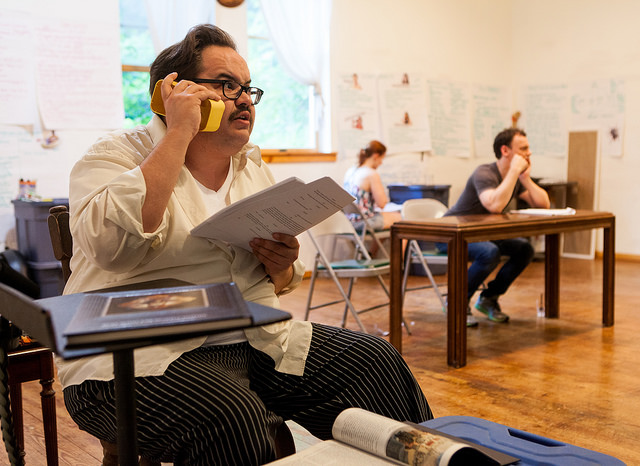 (Photo by Isaiah Tanenbaum. Pictured: Brian Silliman, Stephanie Willing, and Matthew Trumbull working on Mysteries of the Unknown.)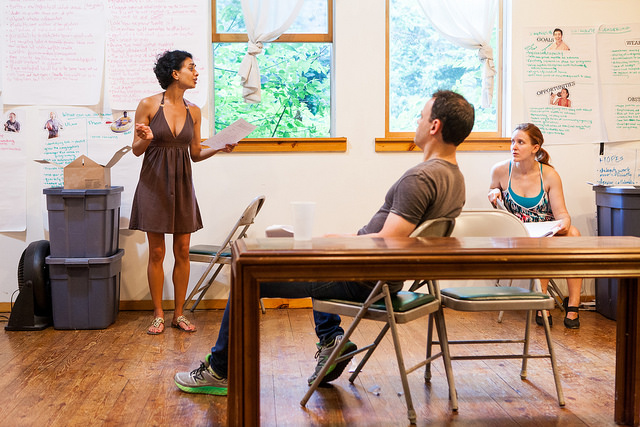 (Photo by Isaiah Tanenbaum. Pictured: Nandita Shenoy, Matthew Trumbull, and Stephanie Willing working on Mysteries of the Unknown.)
Then, we had our closing night bonfire, before packing up the next morning and saying goodbye to our remaining Friends of Flux. The Creative Partners then beautiful Little Pond as deep a clean we could before heading back to New York City in the afternoon, putting a close on our 10th Annual Retreat.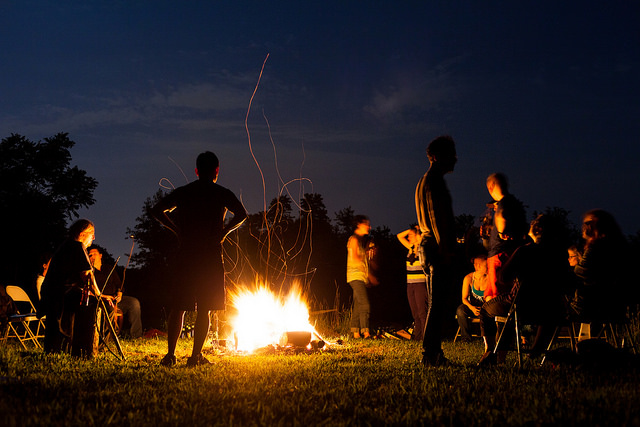 (Photo by Isaiah Tanenbaum.)
There are many unanswered questions for Flux, and for me personally, coming out of this Retreat. Looking back over these images, however, and remembering so many joyful moments, there is no question that I'm already looking forward to the 2016 Retreat…