Flux Sunday, NYC, 8/23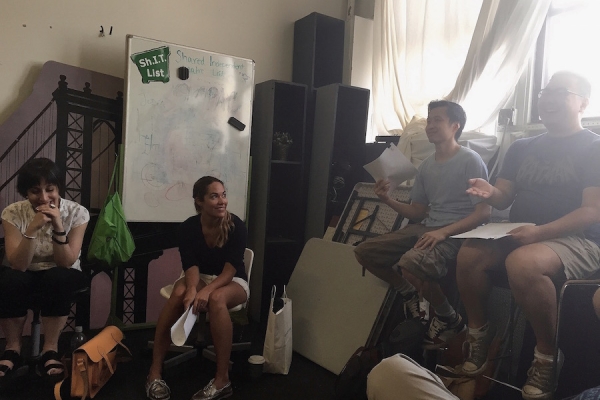 (Post and photo by August Schulenburg.)
You may have noticed an unusual addition to this post's title. Perhaps you're thinking, "Well, of course Flux Sunday is in New York City, that's where y'all are based, right?" And until today, you'd be right.
Because today, Flux Sunday got bi-coastal. What what!?
That's right. While we made some theatre happen at The Sand Box in Long Island City, Rachael Hip-Flores was leading a band of LA-based Friends of Flux and new acquaintances in the first ever Los Angeles Flux Sunday! More on that anon.
Playwrights: Johnna Adams (World Builders), August Schulenburg (The Divine Murder Mystery), Jason Tseng (AirBnB, Rizing)
Directors: August, Jason, Deborah Wolfson, Christine Zagrobelny
Actors: Johnna, Jessica Angleskhan, Arthur Aulisi, Ken Glickfeld, Justin Hoch, Jen Kipley, Carl Li, Isaiah Tanenbaum, Matthew Trumbull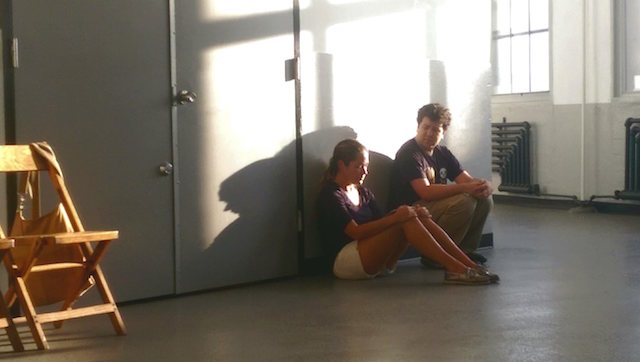 (Photo by Justin Hoch. Pictured: Jen Kipley, Isaiah Tanenbaum.)
Highlights included:
Getting to hear the end of Johnna's World Builders, which we'd all fallen in love with after seeing the first scenes at Flux Sunday. It was beautifully brought to life by two versions of Max and Whitney: Jessica and Matthew, and Jen and Isaiah.
Welcoming first-time Flux Sundayers Carl and Deborah (great work from both);
Seeing a newly revised seen from Jason's Rising (formerly known as Outbreak) and enjoying the differences (and similarities) to the scene from when Becky and Anna played it at the Retreat; and
Arthur's convincingly friendly Father Talley in my odd God murder mystery play (especially his delivery of the lines to end the scene that I wrote only a few minutes before we shared the scene–hot off the presses indeed).