Flux Sunday, NYC, 10/11/15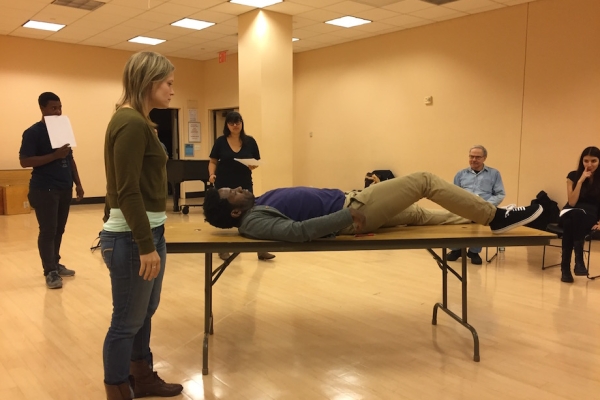 (Photo and post by August Schulenburg.)
After an unseemly hiatus driven by life-demands and a space draught, Flux Sunday has returned! We were back in the friendly confines of Judson Memorial Church for three new plays, including scenes from Kevin R. Free's FluxForward play, AM I DEAD? An Untrue Narrative of Anatomical Lewis, The Slave (save the date for a Food:Soul reading on 12/14).
Playwrights: Kevin R. Free (AM I DEAD? An Untrue Narrative of Anatomical Lewis, The Slave), Monet Hurst-Mendoza (MEAT; or Thin Girls Stretching), August Schulenburg (For Her)
Directors: August, Kelly O' Donnell, Christine Zagrobelny
Actors: Marielle Duke, Adriana Jones, Monet, Ken Glickfeld, Dara O'Brien, Heather Lee Rogers, Kia Rogers, Alisha Spielmann, Isaiah Tanenbaum, Tanisha Thompson, Matthew Trumbull, Chinaza Uche
Highlights included:
A somewhat disturbing if all-too-apt theme of violence against women;
Alisha covering her face with laughter in preparation for a particularly funny moment in Kevin's play;
A wonderful Flux Sunday debut from Tanisha Thompson (who will be appearing in the 10/19 Food:Soul of Marian Smouldering);
Matthew Trumbull working on all three scenes and winning Flux Sunday MVP;
Monet's brilliantly funny and disturbing scene, and her return to acting (thank you!); and
Ken and Matthew breathing such deeply felt life into my radio play.
If you were there, what moments would you be sure to never sweep away?