Three IT Award Noms for Marian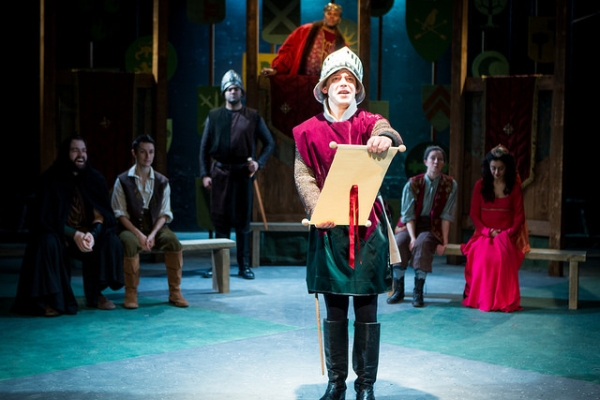 (All photos by Isaiah Tanenbaum: Theatrical Photography.)
Hear ye, hear ye! We're thrilled to share that three Marian artists have been nominated for IT Awards:
Jack Gilbert, for outstanding actor in a lead role
Rocio Mendez, for outstanding fight choreography (her second IT Award nom for Flux fighting after Hearts Like Fists!)
Matthew Trumbull, for outstanding actor in a featured role
First we must express our sincere and abiding gratitude to the New York Innovative Theatre Awards team, past and present: Shay, Nick, Jason, Akia, Hillary, and everyone who has kept this vital organization running against the odds for years. We also extend our thanks to the judges and to everyone who took the time to vote for us!
Now, some yummy photos for our nom nom noms…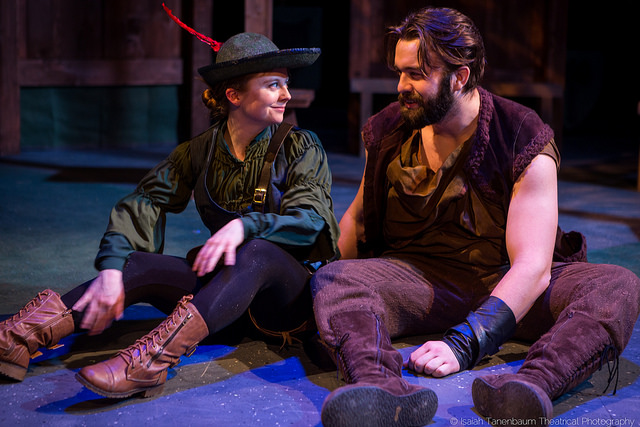 (Pictured: Becky Byers, Jack Gilbert.)
Surely Robin is proud of Little John for this big ol' nomination! Surely that's all that spark is between them; pride, and not love (who has time for love in an age of resistance?).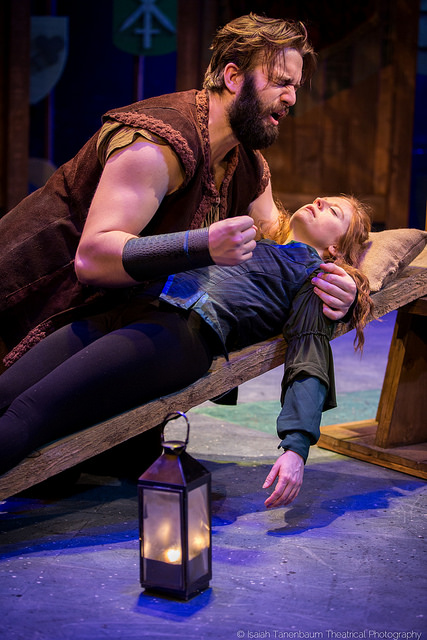 (Pictured: Jack Gilbert, Becky Byers.)
But great acting isn't just subtextual romance and height gags; it's genuinely moving feeling, too.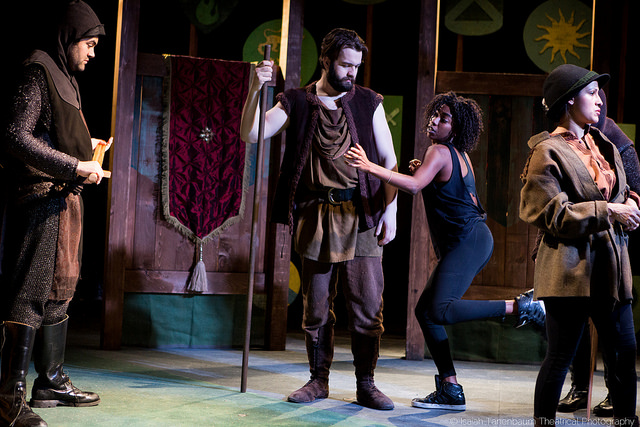 (Pictured:Aaron Parker Fouhey, Jack Gilbert,Rocio Mendez, Jessica Angleskahn.)
It doesn't hurt Rocio's serious fight direction skills that she is a serious fight combatant herself.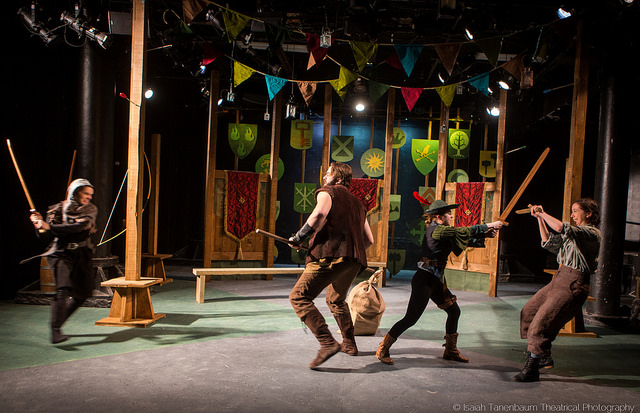 Pictured: Marnie Schulenburg, Jack Gilbert, Becky Byers, Alexandra Curran.)
OK, yes, this picture isn't just about celebrating Rocio's amazing fight direction, but also the BEAUTIFUL work of the whole design team. I mean, just look at the show.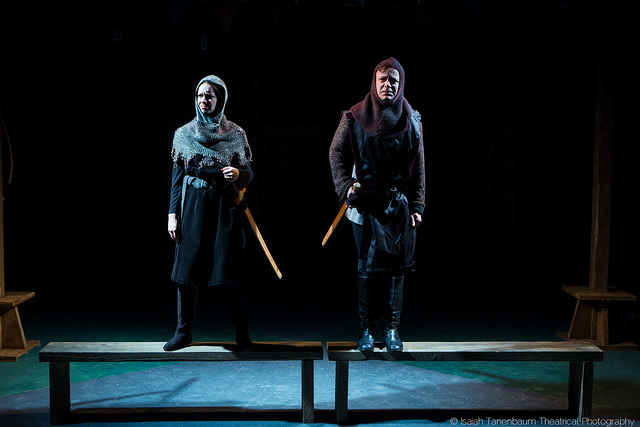 (Pictured: Marnie Schulenburg, Matthew Trumbull.)
And, well, what can we say about Matthew "Downtown Treasure" Trumbull? Perhaps it was his scene partner Marnie who said it best, acknowledging that only the acting chops of Trumbull could garner a nom for the delivery of the line, "Corn." (But really, are any of us over that delivery?)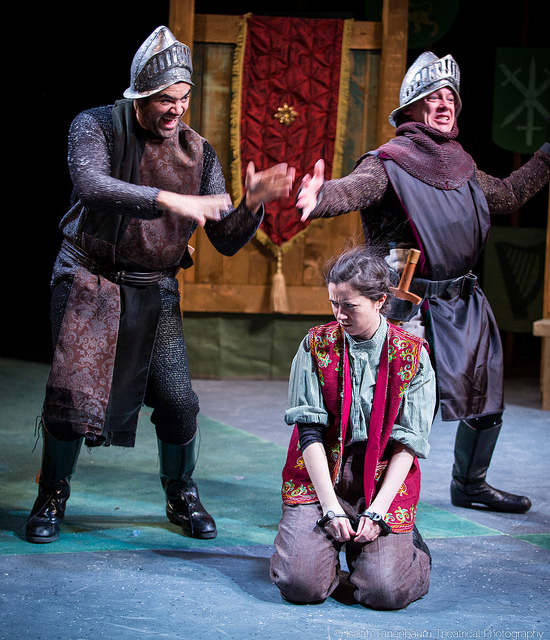 (Pictured: Aaron Parker Fouhey, Alexandra Curran, Matthew Trumbull.)
Aaron and Matthew are demonstrating how we will behave if the nominations turn into actual awards. Alexandra is demonstrating the faces we'll make if we don't.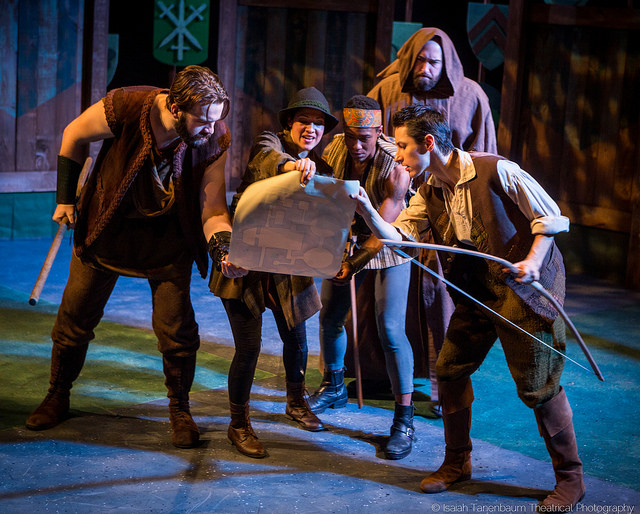 (Pictured: Jack Gilbert, Jessica Angleskahn, T. Thompson, Mike Mihm, C. Bain.)
Oh, and this picture? That's us planning to storm the IT Awards Party!!
We were also psyched to see old IT friends like Retro Productions, Caps Lock Theatre, and MTWorks representing; and, as ever, thrilled to get to know new (to us) companies.  Because while it does feel great to be nominated, the IT Awards are truly about the community of theatre-makers we call home, and we're thrilled to make new friends and raise a glass with the olds ones. To the 2017 IT Awards, and see you at award ceremony later this year!