Our First Party Soft was Pure Softness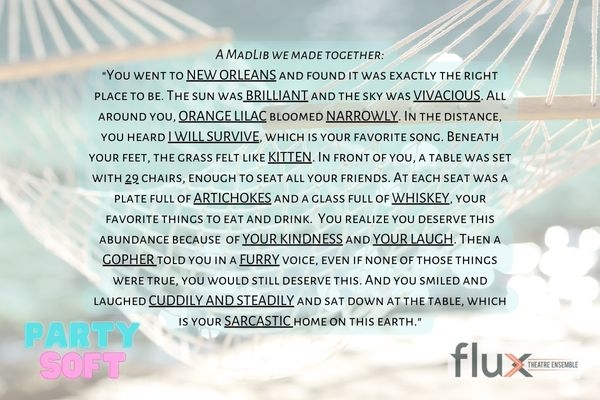 We had such a wonderful first gathering of ease & care! Thank you to Heather Cohn, Lori Elizabeth Parquet, Corinna Schulenburg, Isaiah Tanenbaum, and Salma Zohdi for co-creating and facilitating this event. In the spirit of our commitment to Open Source theatre, we're sharing the run-of show and key resources—including the collectively created MadLib above that ended our night!
PARTY SOFT RUN-OF-SHOW
Introductions

Name, pronouns, land acknowledgment, and the last delicious thing you ate
Sharing Party Soft's run-of-show and five parts: PREPARE, PRAISE, PRESENCE, PRACTICE, POTPOURRI
What is Flux's Core Value of Collective Care?
Read the quote: "How can we access pleasure, joy, and liberation if we're too tired to experience it? If we're so exhausted, how would we be able to recognize that we've reached our liberation? Will we be too tired to know it?" -Tricia Hersey

PREPARE

Read Wild Geese by Mary Oliver (see below)
Collective journaling: if someone who loved you was watching you in a moment of joy, of ease, of softness—how would they describe you? What are you doing?
Share out

PRAISE

Read the quote: "Ours seems to be a world that values 'strength.' We want 'hard' bodies, 'strong' minds, 'tough' wills, 'hard as nail' determination, 'rugged' personalities, 'sturdy' character, and so on. I wonder if we have confused hardness with the strength it takes to truly give and receive love. Let us praise softness." -Omid Safi
Call and response: we each lift something that brings softness into our lives—an object, a work of art, a person or animal—and describe it. When each person finishes, the group affirms, "Praise to the (thing that was shared.)"

PRESENCE

Story sharing: What is something that feels difficult right now? Please let us know how you'd like us to receive it. Do you want us simply to witness? Would you like comfort? Or solutions?

PRACTICE

Read the quote: "Caring for myself is not self-indulgence, it is self-preservation, and that is an act of political warfare." -Audre Lorde
What is something you do repeatedly—a practice you have—of self and/or collective care? Something that grounds you, heals you, resets you). Please share and let others know if this is something they can use themselves, or if it's a closed practice.

POTPOURRI

We end with something silly, unexpected, light-hearted, and full of goofy grace. This time round…a MadLib!

Closing

Share something that resonated.
End on breath.
RESOURCES:
Wild Geese
by Mary Oliver
You do not have to be good.
You do not have to walk on your knees
for a hundred miles through the desert repenting.
You only have to let the soft animal of your body
love what it loves.
Tell me about despair, yours, and I will tell you mine.
Meanwhile the world goes on.
Meanwhile the sun and the clear pebbles of the rain
are moving across the landscapes,
over the prairies and the deep trees,
the mountains and the rivers.
Meanwhile the wild geese, high in the clean blue air,
are heading home again.
Whoever you are, no matter how lonely,
the world offers itself to your imagination,
calls to you like the wild geese, harsh and exciting –
over and over announcing your place
in the family of things.