Climate Resources for Metra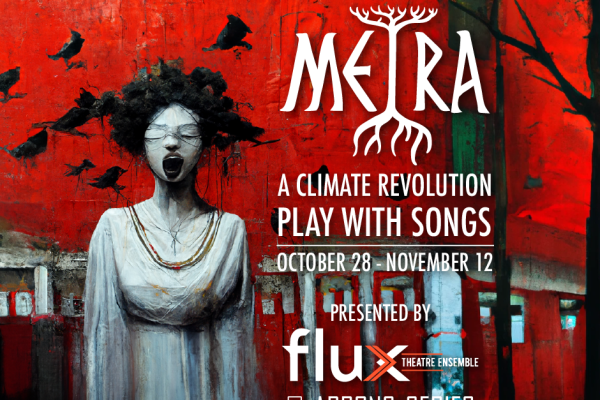 After Metra… Now what? 
The play Metra tells us a story of a just future born out of the climate crisis through collective action. But what comes of these visions, after we leave the theater and return to our lives? Here are a few real-world inspirations for taking action toward climate justice:
Know the Goal
Climate change isn't a singular issue to overcome, but our new global reality. The first step in collective action is getting on the same page, so that we all know what it is we're fighting for. 
The climate movement is intersectional, meaning it shares many of the same problems and solutions as other justice movements (social, racial, housing, disability, health, transportation, etc). One tool that encompasses these intersections is called the Just Transition framework, which proposes that our collective goal is to transition from our current extractive culture to a regenerative one: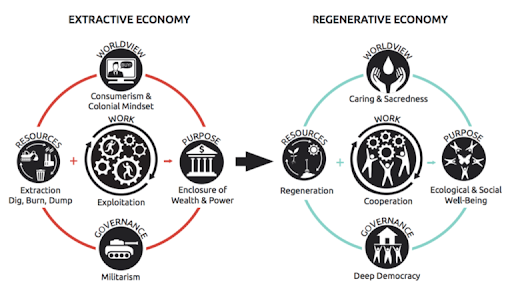 Learn more about the Just Transition framework from Movement Generation. 
Support Land Back and Indigenous Sovereignty 
Solutions to climate change and environmental injustice have existed for thousands of years in Indigenous lifeways and land stewardship. One of the most significant actions we can collectively take toward climate justice is to support Indigenous sovereignty projects. This work protects land, water, and air for future generations, while also making meaningful steps toward the return of Native land and accounting for the violence of past and present colonization. 
Learn about the Indigenous land you occupy and the Land Back movement.
Read An Indigenous People's History of the United States by Roxanne Dunbar-Ortiz and Braiding Sweetgrass by Robin Wall Kimmerer.  
Watch Indigenous-created content with positive, complex depictions of Native people such as Rutherford Falls, Reservation Dogs, and Prey. These works are great examples of what kinds of alternative storytelling happens when Native people control their own narratives.

Donate to support local Indigenous artists, organizations, and sovereignty projects such as:
Iron Path Farms, a Haudenosaunee Two Spirit led food sovereignty project growing ancestral foods for indigenous people.
The Lenape Center, an elder-led organization committed to continuing Lenapehoking, the Lenape homeland through community, culture, and the arts.
Get Local
The climate crisis is overwhelming because the problems are so all-encompassing, global, and unprecedented. It can make us feel defeated by the scale of change relative to how small our actions seem to be. A way to counter these feelings is to focus on local projects where your positive impact is more apparent.
Join local protests, marches, campaigns, and demonstrations, such as:
Stop the Money Pipeline, working to end the financial sector's funding of the fossil fuel industry.
Fridays for Future youth climate strikes.
Sunrise Movement NYC, a youth-led collective working towards a Green New Deal.
Volunteer with your local community garden, park, or composting facility.
Buy used clothing from local thrift stores and homegoods from reuse centers such as BIG Reuse in Gowanus. Or skip the money exchange altogether by joining a Buy Nothing group in your neighborhood. 
Donate or volunteer to support local environmental justice organizations, such as: 
El Puente (North Brooklyn)  
WEACT (Harlem) 
UPROSE (Red Hook) 
Bronx River Alliance (Bronx)
Lower East Side Ecology Center (Manhattan) 
Billion Oyster Project (Governor's Island/ all boroughs)
Vote for lawmakers who are committed to taking climate action. 
(Re)Connect with the Land
Climate and environmental justice is also about building meaningful relationships with the awesome ecosystems of which we are a part. Nurturing a deeper respect and love for our neighbor species reminds us what is most essential and in need of protecting. So climate action also means hugging some trees, caring for houseplants, digging our toes in the sand and being humbled by the ocean, and appreciating the mountain snow that next spring will become our drinking water. 
In NYC we are privileged to have many unique, biodiverse parks and wilderness areas accessible by public transportation, such as:
Greenbelt Nature Conservancy (Staten Island)
Inwood Hill Park (Northern Manhattan)
Forest Park (Queens)
Salt Marsh Nature Center (Brooklyn)
Hudson Highlands State Park (Cold Spring, NY)
Harriman State Park (Tuxedo, NY)
Appalachian Trail (Pawling, NY)
So many beaches!
Make it Personal
The above ideas are just the tip of the iceberg. Because climate justice intersects with so many other movements toward a regenerative future, there are countless ways to take action that make sense for you and your life. 
Marine biologist Ayana Elizabeth Johnson and the All We Can Save project created this helpful tool, a Climate Venn Diagram, to help you find your own climate action: