Hearts Like Fists Review: Jonathan Mandell, Backstage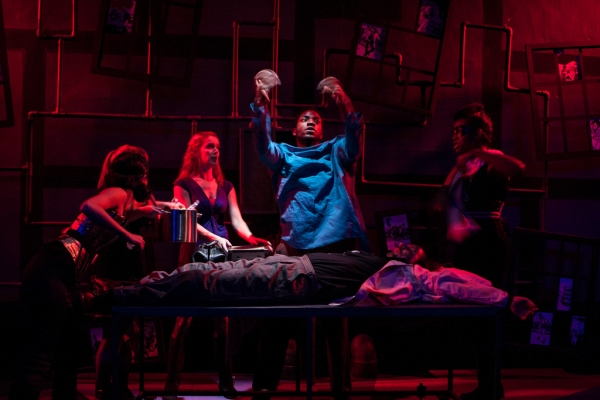 (Photo: Isaiah Tanenbaum. Pictured: Rachael Hip-Flores, Becky Byers, Marnie Schulenburg, Chinaza Uche, Aja Houston, August Schulenburg. Post by August Schulenburg).
Having fallen way behind on my blog responses to reviews, I can tell those just tuning in that Jonathan Mandell's review for Backstage is so far the worst of the lot, and it's not bad at all. It also has the benefit of being well-written, and though I disagree with some of his thoughts, they are always engaging.
One of the key critical points he draws regards the dimensionality of the characters. He uses the language "the least one-dimensional" to describe the characters (and excellent portrayals) of Peter and Lisa, but I think the other characters are not necessarily less-dimensional as they are more brightly drawn. When the emotional life of characters stretches the behavioral bounds of realism, it can be easy to mistake that break from regular behavior for a lack of complexity. But Doctor X is not simplistic, or at least, he's not written that way. He is frequently self-doubting, self-revising, chasing what memories he has and what purpose he can find to achieve some kind of temporary peace against the pain he feels, like a tragic hero with the volume turned up to eleven.
Now, I may indeed have fallen short of illuminating that complexity, but it is certainly there in the script. Mandell's gracefully written challenge shook me, and I gave my worst performance on Wednesday after reading it, as every choice I made suddenly seemed potentially one-dimensional. Thankfully, I reconnected with the play on Thursday, and I think I'm actually giving a stronger portrayal for having taken the review a little too deeply to heart.
But there is much to love without condition in this review, and I leave you with this:
"The athletic choreography by fight director Adam Swiderski is playful and graceful, involving slow-motion comic-book action, balletic ninja movement, and impressive flips and kicks. This is a show with rhythm: Even the cell-phone announcement is delivered rap style by a DJ in sunglasses."
It's a Saturday night, so why not get your tickets now and feel the beat?