Understand Our Ground: Becky's Piece, 1st Rehearsal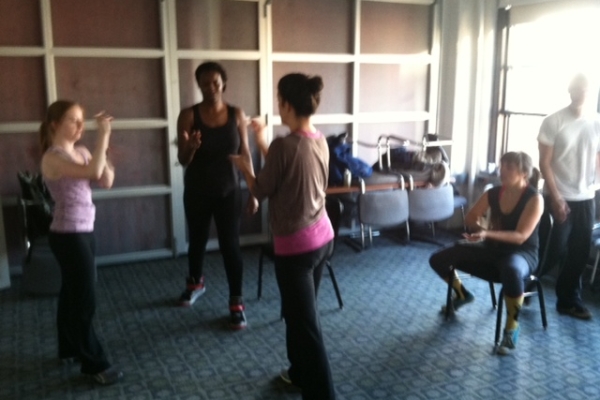 (Photo and post by August Schulenburg. Pictured: Becky Byers, Aja Houston, Sol Crespo, Emily Hartford and Chester Poon.)
Last night, while some Fluxers were off testing out our new LIC space (tentatively titled "The SandBox" after lead organizer Bad Sandy Productions) for Flux Sundays (more on that anon); six of us held our first rehearsal for Becky Byers' contribution to Understand Our Ground (RSVP here).
The piece features Sol Crespo, Emily Hartford, Aja Houston, Chester Poon and myself; and wrestles physically with breaking out of the hate-driven systems and inherited patterns of racial inequity. Becky has given the piece the working title "Hope. Struggle. Progress." and that feels right: through repetitive movement and beautiful physical theatre, some characters transform and escape from the systems, but others do not. The progress is not complete, and the work must continue.
It is a joy working on this: the other actors are such fine movers, and Becky has a keen eye for how to fill the physical gestures with human intention and feeling. One of the internal goals for this Food:Soul was to push ourselves to work in non-traditional ways, and this piece feels like it's opening new aesthetic territory for Flux. It's also very exciting to see Creative Partner Becky leading a rehearsal process with such a generous and confident hand.
A big question we're grappling with: what are the prompts for audience dialogue that live within this piece? It grapples in such a personal and beautiful way with how institutionalized systems of oppression become internalized; become a part of how our bodies move and therefore seemingly central to our identity. There's a lot of rich stuff here to prompt audience exchange, if we can find the right words…
…and yes, I am a wee bit sore today, but in the best possible way. I can't wait for our next rehearsal!