Jane the Plain Press Release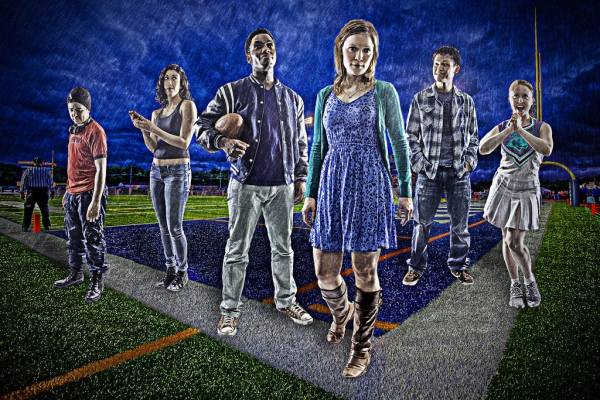 Photo and graphic design by Isaiah Tanenbaum
FOR IMMEDIATE RELEASE
Contact: Emily Owens PR | emily@emilyowenspr.com | 917.408.3677
JANE THE PLAIN
WRITTEN BY AUGUST SCHULENBURG
DIRECTED BY KELLY O'DONNELL 
WORLD PREMIERE
PREVIEWS MAY 9 & 10
PRESS DATES MAY 10, 11, & 12
MAY 9-24 @ 4TH STREET THEATRE
Flux Theatre Ensemble will present the World Premiere of August Schulenburg's (Lesser Seductions of History; DEINDE) JANE THE PLAIN, May 9-24 at the 4th Street Theatre (83 East 4th Street between 2nd Avenue and Bowery). The production will be directed by Kelly O'Donnell (NYIT Award nomination for Hearts Like Fists) with Assistant Director Emily Hartford (Co-founder, Rabbit Hole Ensemble) and will feature Becky Byers* (NYIT Award nomination for Hearts Like Fists), Sol Crespo (nytheatre.com 2012 Person of the Year; August Schulenburg's DEINDE), Chester Poon (Job at The Flea; Adam Szymkowicz's Hearts Like Fists), Alisha Spielmann* (Johnna Adams' Sans Merci), Isaiah Tanenbaum* (August Schulenburg's Honey Fist), and Chinaza Uche* (Indie Theatre Now 2013 Person of the Year; Ellen McLaughlin's Ajax in Iraq). The creative team will include Sound Design by Janie Bullard (2014 USITT/LDI Rising Star Award; Indie Theatre Now 2013 Person of the Year), Set Design by Will Lowry (Ajax in Iraq), Costume Design by Stephanie Levin (Hearts Like Fists), and Lighting Design by Kia Rogers (2012 nytheatre.com Person of the Year). The Production Stage Manager will be Jodi M. Witherell.  *Actor appears courtesy of the Actors' Equity Association.
Football, popularity and the clash of the gods: it's all going down at Plainview High School's homecoming game in the comic fairy tale Jane the Plain. Jane's status takes a sudden rise after she saves the mysterious Glowing Girl and is given the gift of beauty. Everyone starts falling for her: quarterback Scotty the Hotty, second-stringer Lesson the Decent, even the most popular girl in school, Lexi the Sexy. As the jealous Betty the Pretty seeks to eliminate her newfound rival, Leonard the Awkward tries to win his best friend Jane back. But when another mysterious god, the Mirror Man, starts haunting Scotty, this battle of love and social status takes a dangerous turn of cosmic proportions. What if the wrong choice in high school really could end the world?
Jane the Plain was the Winner of the Full Length Play Category for The Chameleon Theatre Circle's 13th Annual New Play Festival, a Finalist for the Bloomington Playwrights Project's 2013 Woodard/Newman Drama Award, a Finalist for the 2013 Theatre Conspiracy New Play Contest, and was featured in Stella Adler Studio of Acting's 2013 First Breath Playwriting Festival, the Brick Theatre's Oven Series and Purple Rep's Dark Night Serials Series. This production will be the play's World Premiere.
Jane the Plain will be presented by Flux Theatre Ensemble at the 4th Street Theatre (83 East 4th Street between 2nd Avenue and Bowery) May 9-12, 15-17 & 19-23 at 7:30pm; Saturday, May 24 at 2:30pm & 7:30pm. Tickets ($18; $15 students) may be purchased online at www.fluxtheatre.org or by calling 866-811-4111 beginning Monday, March 31.
AUGUST SCHULENBURG (Playwright) August's plays include Carrin Beginning, Kidding Jane, Rue, Riding the Bull, Good Hope, Other Bodies, Honey Fist, Dark Matter, Jacob's House, DEINDE, Dream Walker, Denny and Lila, Encryption, Jane the Plain and The Lesser Seductions of History. His plays have been produced and developed at the Lark Play Development Center, Bay Area Playwrights Festival, Ensemble Studio Theatre, Chelsea Playhouse, Theater for the New City, Portland Stage Company, Dayton Playhouse, Colonial Players, Pennsylvania Shakespeare Festival, Contemporary Stage Company, Abingdon Theater Company, Gideon Productions, New Amerikan Theatre, Penobscot Theatre, Impetuous Theater Group, Decades Out, Soundtrack Series, Reverie Productions, Wolf 359, Blue Box Productions, Piper McKenzie, Boomerang Theatre Company, Adaptive Arts, Hall High School, Nosedive Productions,  MTWorks, Purple Repertory, Valley Repertory Company, The Brick Theater, CAPS LOCK Theatre, Chameleon Theatre Circle, Retro Productions, Elephant Run District, TheatreLAB and Flux Theatre Ensemble, where he is the Artistic Director. He is a 2013-14 Lark Playwrights Workshop Fellow and a member of the Propulsion Lab for Mission to (dit)Mars. His work has also been published in the New York Theater Review, Stage and Screen, Indie Theater Now, Midway Journal, NoPassport Press and in two issues of Carrier Pigeon. He also writes for film and television with MozzleStead Productions.
KELLY O'DONNELL (Director) is a co-founder of Flux Theatre Ensemble. For Flux, Kelly has directed Honey Fist, Hearts Like Fists (NYIT Nomination for Outstanding Direction), Dog Act, Jacob's House, Riding the Bull, Life is a Dream and Rue. She also directed readings of Liz Duffy Adams' Wet Or, Isabella the Pirate Queen Reaches the Horse Latitudes and Jason Grote's This Storm is What We Call Progress for Flux's Food:Soul. Kelly has worked as an actor or director at The Pennsylvania, Orlando and Utah Shakespeare Festivals, the Walnut Street Theatre, Alchemy Theatre Company, the West End Shakespeare Players, the Cape Playhouse, The Orlando Fringe Festival and the Arden Theatre.
FLUX THEATRE ENSEMBLE produces transformative theatre that explores and awakens the capacity for change. As an ensemble-artist driven company, Flux believes that long-term collaboration and rigorous creative development can unite artists and audiences to build a creative home in New York.
Flux is the proud recipient of two NYC Fringe Festival Awards (2007 Village Voice Audience Favorite Award for Riding the Bull; 2008 Outstanding Direction Award for Other Bodies) and a fifteen-time New York Innovative Theatre Award nominee between 2008-2013, including wins for The Angel Eaters Trilogy and Ajax in Iraq. In 2011 The New York Innovative Theatre Awards also awarded the prestigious Caffé Cino Fellowship Award to Flux for "consistently producing outstanding work." Flux received a Citation for Excellence in Off-Off Broadway Theatre from the Independent Theater Bloggers Association and was named one of nytheatre.com's 2008 "People of the Year".  www.fluxtheatre.org