Core Work: Revolution/Train, by Salma Zohdi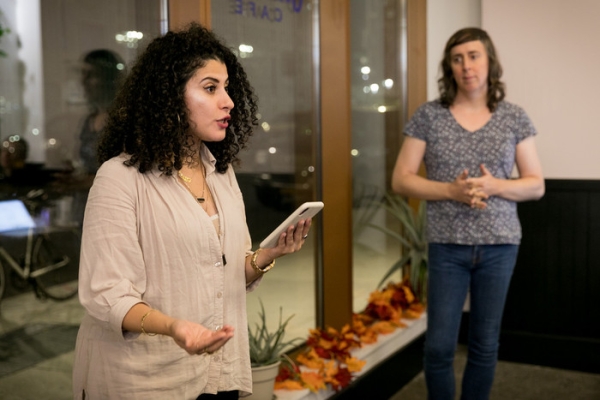 Photo of Salma Zohdi and Corinna Schulenburg by Isaiah Tanenbaum. The following post gives a more in-depth look at one of the projects under development through Flux's Core Work program. Learn more about Core Work here.
***UPDATE: Flux is looking for female MENA (North African & Sudanese) artists to join Core Work and contribute to the development of Revolution/Train,  as well as other Core Work projects. Learn more here.***
WHAT is Revolution/Train? Revolution/Train is the working title for a work-in-progress by Salma Zohdi. Of the project, she writes:
"Two songs, one hopeful and one cynical. A subway station. Two revolutions, eight years apart.
Those are the seeds that sparked a sublime moment that I had getting off the subway the other night, listening to a song by an Egyptian revolutionary band. The song is the cynical version of the same song they launched after Mubarak stepped down in February 2011. The song back then was full of hope, life, and freedom. The same song now, with the same composition, different lyrics, is full of cynicism, despair, and self-deprecation. How did we get here? Why did we get here? What happened to those people of 2011?
With all these thoughts rushing through my mind, I crossed paths with another woman. I was rushing out of the station—I got off the train, my journey was done. She was sitting, waiting for the train; her journey was about to start. She too was listening to music. From the looks of it, she was surrounded by an aura of joy and hope. What if—what if she's from Sudan? What if she's listening to a song that fuelled her hopefulness to resist? Where would she be in 8 years? Rushing out of the train and surrounding herself with cynicism like myself? Or will she make it and hold tight to that hope in her heart? I wonder . . ."
WHO is working on Revolution/Train? Salma Zohdi is the lead creator, with Corinna Schulenburg serving as the project's lead organizer. Early development has involved Core Work collaborators that include: C Bain, Emily Hartford, Rachael Hip-Flores, Kitty Lindsay, and Justin Woo.
DEVELOPMENT HISTORY:
Scene development and development of physicality at Core Work 2019 meetings
Reading at 2019 Core Work at Little Pond Arts Retreat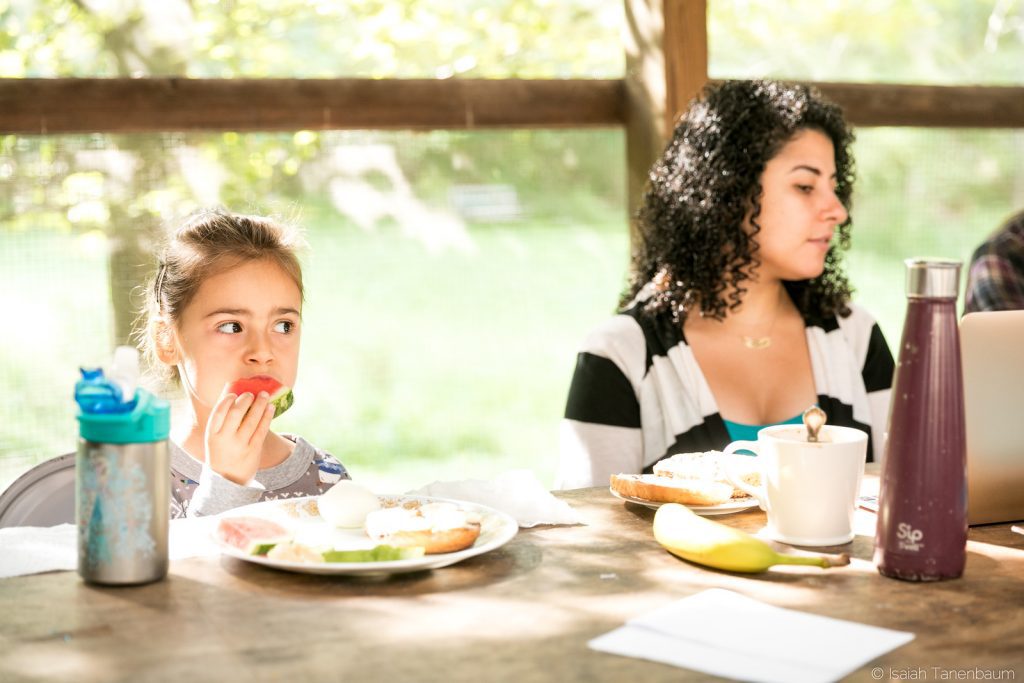 Salma Zohdi leading a discussion of Revolution/Train at the 2019 Core Work as Mercena Schulenburg listens intently. Photo by Isaiah Tanenbaum.