Announcing Rage Play: Beyond the Scenes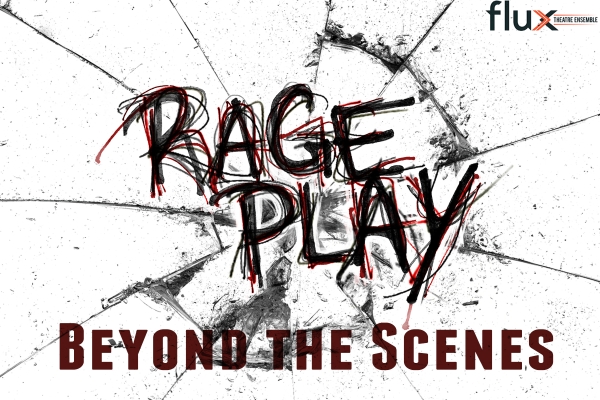 An Interactive Livestream
Featuring the Cast and Creative Team of Rage Play
Saturday, May 30 at 7:30 pm
CLICK HERE to request the Zoom registration link
What Is It?
Flux's world premiere production of Rage Play, by Nandita Shenoy and directed by Flux Creative Partner Lori Parquet, was scheduled to open in late March. As COVID-19 began to spread, however, we realized that it would be irresponsible to do anything but cancel the show, which we did just a few weeks before the play was to have opened.
But simply letting this production disappear into the void didn't feel very Fluxy, nor would it have been fair to all the talented artists who had labored for months — even years — to bring their work to you. Also, we miss all of you in our community, and we especially miss being together to make and share art.
So we've re-assembled the actors and creative team to present a one-night livestream that showcases their incredible work. You'll see selected scenes, performed live by the actors, and hear from the designers and fight/intimacy choreographer about what you would have seen on stage. Afterwards, there will be an opportunity to ask questions and discuss, echoing the play's uniquely interactive ending.
While nothing could ever take the place of attending this production in person, we hope that you'll join us for this peak behind, and beyond, the scenes.
When and Where?
Saturday, May 30, 7:30 pm via Zoom. RSVP HERE to receive the Zoom registration link.
What's Zoom?
It's online videoconferencing software designed for just this sort of thing. It's free; you don't even need to create an account to participate. Just use any web-connected device! We recommend a laptop or desktop, but your phone or tablet will also work just fine (note that depending on your device, you may need to download Zoom's free app).
Wait, I'll Be on Video?
No, don't worry! This is a special Zoom set-up called a "seminar," not like the free-for-all chats you've probably been having with friends, family, and coworkers. Only the cast and creative team will be visible and audible; attendees' cameras and mics will be disabled. No need to tidy up your office or turn the phone ringer off, come just as you are. Audience members will be able to use the Q&A feature to submit text questions, which our moderator will pitch at the team during the discussion portion of the event.
Does It Cost Anything?
Under Flux's Living Ticket initiative, all of our productions require no financial transaction to attend. And thanks to the generous support of the MAP Fund and LIT Emergency Relief Fund, you can rest assured that the folks you'll see are all being compensated, in addition to the full, promised amount we have already paid each artist for the original production.
With that said, if you happen to be in a position to make a tax-deductible donation to Flux, and wish to, you may always do so HERE.
Whether you choose to give us a portion of your time, your money, or both, we remain grateful and honored to have you as part of our community.
We also wish to thank the NYC Department of Cultural Affairs and New York State Council on the Arts for their institutional support.
How Can I Spread the Word?
All the usual (socially-distant) ways. Here's a Facebook event to share around, if that's your jam.
I Can't Attend The Livestream. 🙁
Good news: unless we hit our maximum contractual capacity (which we don't anticipate will happen), we will post a recording of the stream on this page through June 3rd.
What About the Unions? Are They Cool With All This?
They are. We wish to express our gratitude to the Performers' Unions:
ACTORS' EQUITY ASSOCIATION
AMERICAN GUILD OF MUSICAL ARTISTS
AMERICAN GUILD OF VARIETY ARTISTS
SAG-AFTRA
through Theatre Authority, Inc. for their cooperation in permitting the Artists to appear on this program.
---
The Story of Rage Play
Three women stand over the man they've killed, struggling to understand how it happened and why he keeps coming back to life. Again and again and again. Inspired by the #MeToo movement, Nandita Shenoy's outrageous black comedy Rage Play explores the cost women face in fighting back against misogyny and patriarchy, and how they might be complicit in these systems. Through their purgatory, the women aim for liberation…and maybe even a little sweet revenge.
---